An internationally acclaimed New Zealand designer who fitted out some of the country's top eateries and worked on palaces for Saudi royalty has been declared bankrupt.
Award-winning designer Tom Skyring is responsible for the decor in top-end restaurants such as Auckland's Dine, Queenstown's Ballarat Trading Co and the Bangalore Polo Club in Wellington.
Almost a decade ago it was said of any new notable eatery or bar that it was more than likely to have the "distinctive Skyring stamp".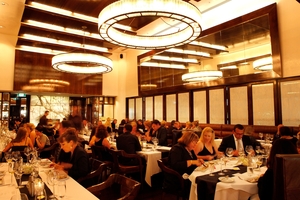 At the time he was known to drive a 1972 Jensen Interceptor sports car and wear Versace clothes.
In 2007 he listed his Rolex submariner watch and collection of Versace's printed silk shirts as two of his "10 favourite things" for the Herald's Viva magazine.
Mr Skyring's design for a hotel restaurant in Auckland's Viaduct used six tonnes of Onice Fantastico stone sourced from Italy. But fortune has changed lately for the designer, who was declared bankrupt on Thursday in the High Court at Auckland after an application was brought by a creditor.
The insolvency register, which records details of bankruptcies, did not name the creditor.
Approached for comment yesterday, Mr Skyring told the Weekend Herald he was hoping to resolve his situation with his creditor as soon as possible.
Bankruptcies normally last three years. Bankrupts can't own a car worth more than $5000 and need approval to be self-employed or travel overseas. Mr Skyring has been an interior designer for about 30 years. Although starting his career in New Zealand, he spent time in London at a company that had the King of Saudi Arabia as a client and worked on three palaces for the monarch.