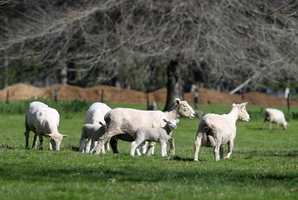 New Zealand sheep have become a prime target for rustlers over the British summer.
More than $58,000 of sheep were stolen from farms in Devon, including 98 rare New Zealand highlander sheep worth $29,000 from one farmer, a BBC news report said.
Local police believe the stolen sheep were sold on the black market, and are working with farmers to minimise and manage the problem.
New Zealand Sheepbreeders Association president Ian Stevenson said "good marketing" by those who bred highlander sheep had created a "perception of premium worth".
The highlander, which is not a registered breed here, is a cross between several breeds and is being marketed to have "more kilograms weaned, high survival and consistent wool".
Mr Stevenson said highlanders grew reasonably quickly, "but there are other breeds in the UK that are equally as good".
The British National Farmers Union said the thefts were costing farmers a fortune and most of the sheep went into the foodchain.
Mike Tewson, the Devon farmer who lost 98 sheep, believed it would have taken at least two or three people and possibly a "good sheepdog" to steal his sheep.
"It would have to be someone with stock knowledge ... or a farm-related person," he told the BBC.
The Ministry for Primary Industries said live sheep were exported for breeding and none had been exported for slaughter since 2003.
Ministry figures, which did not record breeds, showed 361 sheep were exported this year, most to Australia but 71 were sent to Britain.
"Livestock are especially sought after because of their high genetic value," the ministry said, "and because New Zealand is free of most major exotic diseases."