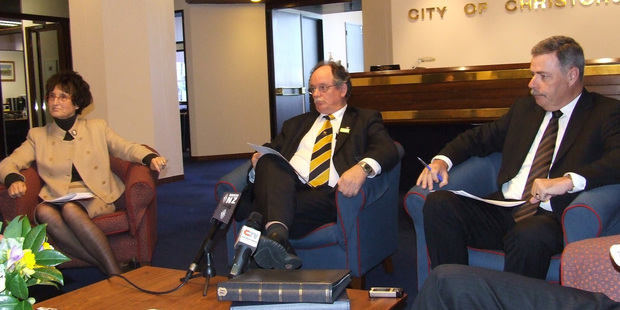 Acting Christchurch City Council boss Jane Parfitt may get a $90,000-plus pay rise today.
The Star can reveal that city councillors will meet behind closed doors to vote on whether Ms Parfitt will get an extra $91,104 added to her current $324,651 annual pay packet.
A confidential report prepared by the city council's general manager human resources Chris Till says the pay hike acknowledges the increased responsibilities Ms Parfitt has as acting chief executive.
She took over the reigns in July after controversial chief executive Tony Marryatt was sent on special leave pending a Crown investigation into the city council's loss of its consent accreditation.
Ms Parfitt was promoted from her role as general manager city environment.
After an investigation into the consents debacle Mr Marryatt resigned with an exit package of more than $400,000.
He had been on an annual salary of $538,522.
The city council has yet to advertise for a new chief executive. Ms Parfitt will stay in the role until a new one is appointed.
Mr Till's report to city councillors says that advice was sought from the State Services Commission on setting Ms Parfitt's pay rise.
The commission said as Ms Parfitt was "only in a temporary caretaker arrangement" she was not entitled to receive the full remuneration of (a chief executive's) position.
Ms Parfitt's "acting allowance" has been calculated as "85 per cent of what a competent chief executive in an acting role would be paid in the public sector".
If city councillors vote in favour of the increase it will take Ms Parfitt's salary to $415,755 and the "acting allowance" will be backdated to July 4 when she took over.
The report that will go to councillors today also shows that Ms Parfitt has asked city councillors to consider increasing her notice period to six months from three in the event of a redundancy situation as the "new CEO may disestablish her position" - that being the general manager of environment.
Ms Parfitt was chief executive of the Waimakariri District Council for three years before moving to the city council. She was also the chief executive of Healthlink South and is a fellow of the New Zealand Institute of Management.