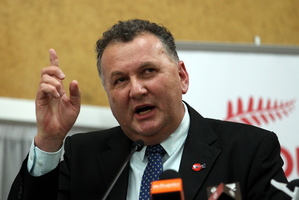 A Labour Government would "upgrade" a long running forestry joint venture between the Crown and Northland Maori land owners to give young Maori badly needed jobs replanting recently logged forests economic development spokesman Shane Jones says.
Mr Jones said thousands of hectares of forests on Maori land are currently being logged in Northland but many of the overseas owners are choosing not replant them.
Given the profits they had extracted from the land it was disappointing the owners were not replanting.
"Maori landowners are going end up getting this land back that's going to turn to blackberry, ragwort, tobacco weed and electric puha."
"There's enormous numbers of idle Maori hands up there and basically what I've been saying to them is we're gong to get people replanting trees on that land."
The situation was "a classic example of where the Government could be doing more and we will be doing more by utilising the Taitokerau Forestry initiative run by Treasury and Maori land owners.
The Taitokerau Forestry joint venture was established in the 1980s but has had mixed support from subsequent Governments.
"For reasons I don't understand Treasury isn't interested in it," Mr Jones said.
"What it will require is an upgrade."
"I just think it's a great economic development story planting trees and it will certainly get access to those neglected areas where young people need to be made to work."
Mr Jones said a new Taitokerau Forestry planting programme would employ scores of young Maori, "and allow them get off drugs because in order to develop a career in silviculture and logging industry you've got to be drug free".
"It will install a work ethic in some of these neglected communities where work as become as rare as kokako in the North."
Taitokerau Forests Ltd
• Established in 1986 to develop pine plantations in Northland, with the Government agreeing to fund $2 million a year for 20 years
• In 1992 the National Government tried to get out of the deal and in the end renegotiated a commercial loan agreement in 1996.
• In 2004 the company was given a further $3.6 million after the banks refused to give it credit. At that point it owed the Crown $50 million