Police call in overseas forensic experts to determine what killed woman burned in house inferno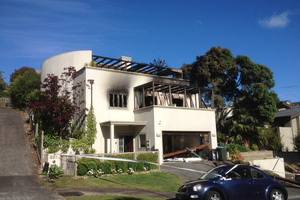 A German forensics expert has been asked to help police solve the mysterious death of a woman while being treated in hospital for burns she suffered in a suspected arson.
Heather Bills died weeks after the fire, but her injuries did not kill her. Police are trying to figure out exactly what - or who - did.
Mrs Bills' Orakei home was gutted by fire on November 24. The 65-year-old mother of two and grandmother was in the house and neighbours braved the inferno to rescue her from an upstairs room.
She had extensive burns to her face, body, hands and legs and was taken to Middlemore Hospital's intensive care unit. She was in Middlemore when she died on January 2.
But she did not die as a result of the burns and injuries from the fire, prompting the police investigation.
Detective Inspector David Lynch said it would be dangerous to speculate about how the pensioner died.
He said police had interviewed several people - including members of Mrs Bills' family, friends and Middlemore staff.
It is understood that police are keeping an open mind on how Mrs Bills died and whether the cause was sudden but natural, or something more sinister.
Mr Lynch said if forensic results raised suspicions, police would have to establish whether anyone else was involved in a criminal capacity, or if it was a self-inflicted death, among other possibilities.
Otherwise, the death would be referred to the coroner.
A forensic testing company in Germany that specialises in a particular field would look at at the case, Mr Lynch said.
It is not unusual for police to seek assistance from overseas experts during investigations. But it is understood investigators in this case spent some time trying to find someone who could help them with specific testing.
Mr Lynch would not say exactly what the company was testing for, but hoped it would be able to "advance the investigation".
"We are waiting to see what the results of the testing are before we determine which way the investigation goes," he said.
The testing would take some time.
The Counties Manukau District Health Board would not comment on Mrs Bills' death while the police investigation was in progress.
Mrs Bills lived in the Orakei house, valued at $720,000, on her own apart from two dogs named Bella and Ratty.
The Herald understands the fire was deliberately lit after petrol was splashed around inside the house.
When it ignited, it caused an explosion that blew the garage door across the road, causing neighbours to think Mrs Bills' car had blown up.
Police are not looking for anyone else in relation to the blaze.
Mrs Bills' son, Brent, did not want to speak this week about the investigation.
In a death notice published in January, he wrote: "We will cherish our good times and wish there were more."
She is also survived by her daughter, Michelle.
Mrs Bills taught for years at Waikowhai Intermediate School, and then began tutoring young people from her home.