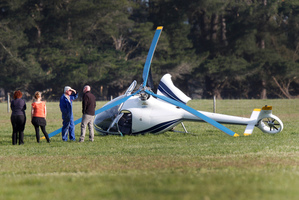 Two pilots had a lucky escape yesterday when their helicopter crashed during a training flight near the Waimakariri River in Canterbury.
The Guimbal Cabri helicopter came down in an open field used as a major low-flying training area at the south end of Two Chain Rd, near Swannanoa, around 4.20pm.
The pair had been practising low-flying manoeuvres when the two-seater aircraft "hit the ground heavily", police said.
The small chopper was damaged on one side, wrecking the left skid. Its rotors still appeared functional.
The qualified pilot, who was undertaking instructor training, was flown to hospital in the Westpac rescue helicopter with moderate spinal injuries, police said.
The second person aboard, an instructor, suffered only minor injuries and remained at the scene until his wife came and picked him up, said the local landowner, Wanaka Helicopters' pilot and instructor Simon Spencer-Bower QSM.
A local helicopter pilot said the helicopter was owned by Pacific Helicopter Training.
A spokesman for the company said he couldn't talk about the crash, citing Civil Aviation Authority (CAA) laws.
Mr Spencer-Bower, who's racked up thousands of hours' flying time himself, doubted the CAA - who have not yet been available for comment - would get involved.
The 65-year-old believed it was a minor incident.
"These things (Guimbal Cabri) are pretty good these days," he said at the scene - a field which forms part of the sprawling estate which has been in his family's hands for decades.
He lets all helicopter and small fixed winged aircraft training operators based at Christchurch Airport - a short flight south over the Waimakariri River - use his property for low-flying, under 500-feet training.
"The nice thing about New Zealand is that you can perform these manoeuvres - practising approaches to land and take off," he said.
Asked if the pilots had been lucky to escape more serious injuries, he said: "People get over-excited because it's a helicopter crash. If it was a car crash, and there's a logical reason for it, no one would be bothered."
Police and ambulance services also attended the crash, with a large cordon initially surrounding the crash scene which borders the 7,000-acre Eyrewell Forest.
Weather conditions at the time of the crash were clear and calm.
Just before dusk, a piece of heavy logging machinery was brought into the field to help lift the crippled wreck onto a truck to be transported away.
- APNZ