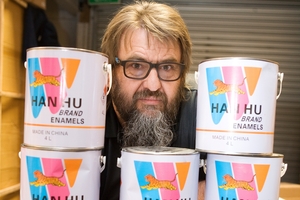 A family of three, forced to seek hospital treatment after being exposed to "potent'' imported paint, have rejected claims it would be suitable for outdoor use.
Karen Odell, 46, of Porirua purchased the Han Hu paint for her daughter's bedroom four weeks ago.
The night after painting the room in their Whitby home, Mrs Odell woke up struggling to breathe.
A candle she used to test the oxygen levels in the room flickered out - and she believes she could have suffocated if she remained asleep.
About 500 tins of the paint, imported from China by Whangarei businessman Toby Brasting, have been recalled by the Government.
The paint was sold in Auckland, Tauranga, Hamilton, Rotorua, Wellington and Whangarei.
Mr Brasting, who thought it was a water-based enamel paint, said it was only after Mrs Odell's complaint that he found it contained petrol.
It should therefore only used outdoors, he said.
However, Mrs Odell disputes this - saying petrol was not one of the products identified in official tests, and that using it outside would likely "poison your neighbours''.
"No way. Five weeks later and our house reeks, the fumes are as bad as when it was just painted - and we stripped all the paint off the day afterwards.
"If [Mr Brasting] is saying the paint could be used on the outside, he's wrong. I would hate to put that on the outside - you'd poison your neighbours. It's potent, it's a killer.''
Paint specialists and scientists who visited her house have also been shocked by the intensity of the stench, Mrs Odell said.
"There's way more in there than just petrol. ESR [Environmental Science and Research] has told us there were six very nasty products in there and petrol wasn't one of them.''
Since inhaling fumes from the paint, Mrs Odell has been seeing a lung specialist about her ongoing health problems, including shortness of breath and pain in her lungs.
The Ministry of Business, Innovation and Employment were doing more tests on the paint, and all retailers had removed it from their shelves, a spokesman said.
Those who had bought the paint should return it to the retailer for a refund.