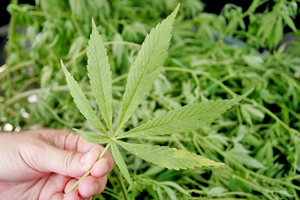 A Blackball man told a Greymouth District Court jury today that he had stolen the 2.5kg of cannabis head that police found in his home on May 8 last year.
Eric Peter Vegneris, 50, elected trial by jury on a charge of possessing cannabis for supply. The stash had an estimated street value of up to $33,000.
Detective Malcolm Haughey, along with two detectives from Nelson and two constables, executed a search warrant at Vegneris's Blackball home, finding a drying room next to a double garage, where a sheet of plywood on trestles held 2.1kg of cannabis head drying under heaters.
Two small bags concealed in a wall each had about 40g of dried head and a basket inside the house held a further 275g. As well, police found kitchen scale, bags, fertiliser and other items used by cannabis dealers.
Vegneris told police he had found the cannabis in the bush but would not say where. It was not for sale, and he and his wife intended to smoke it all.
Today, Vegneris said he and a friend, Dave McMurtrie, had stumbled across eight healthy cannabis plants, in grow bags, when setting possum traps on the Croesus Track. McMurtrie wanted nothing to do with it and walked on, but Vegneris was "stoked" and decided to rip the grower off. He stripped the plants and carried the cannabis home in a rubbish bag that was found near the plants.
He and his wife smoked about an ounce of cannabis a week.
Asked to explain why he needed 88oz that would last them a year and a half, Vegneris said he had no idea how much cannabis he had stolen or the value of it.
Vegneris and his wife were both on sickness benefits, bringing in $360 a week. When Crown prosecutor Barnaby Hawes asked where the money came from to build a deck, garage and a shed at his house, Vegneris said he did all the building work himself, and he also made furniture, did car repairs and worked as a welder to raise funds. His wife, being an accomplished artist, sold works for as much as $1300 a piece.
He said he had failed to tell police about "Dave" finding the cannabis because he was paranoid and "freaking out" when the warrant was being executed.
Three months after his arrest he went back into the bush and took a photo of the eight grow bags and stalks which he presented to prove his case.
McMurtrie told the court that they had found the cannabis but, because of his involvement with it in the past, he wanted nothing to do with it and continued walking.
He denied that he had actually been helping Vegneris with his harvest, not possum trapping.
The trial continues.
- The Greymouth Star