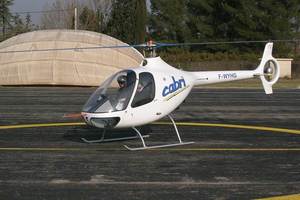 A helicopter was on a training flight when it crashed near the Waimakariri River in Canterbury this afternoon, injuring two people, police have confirmed.
The two-seater Guimbal Cabri helicopter crashed at the south end of Two Chain Rd just north of the Waimakariri River. The incident was reported to emergency services about 4.20pm.
The pilot suffered moderate injuries, police said. He was believed to be a qualified pilot who was undertaking instructor training.
The helicopter was believed to have been flying at relatively low level and hit the ground heavily, said Canterbury police district communications manager Stephen Hill.
The injured man was transferred to hospital by helicopter with what were believed to be moderate spinal injuries. The second person aboard, an instructor, suffered only minor injuries and remained at the scene.
A local helicopter pilot said the helicopter was owned by Pacific Helicopter Training.
A spokesman for the company said he couldn't talk about the crash, citing Civil Aviation Authority laws.
A South Eyre Road resident near the crash said she had seen three police cars and two fire appliances heading west.
The severity of the incident resulted in the Westpac Rescue Helicopter being diverted to the scene while on route to a less serious callout in the Kaikoura Huntleys Hills.
Police and ambulance services also attended.
Garden City Helicopters' general manager Simon Duncan said the area in Swannanoa was a known approved low-flying area and was a training area for helicopters and planes.
Weather conditions at the time of the crash were clear and calm.
HeliContrax owner and chief pilot Ben Walker said the area was popular with helicopter training companies and private operators.
The Civil Aviation Authority was not available for comment.
- APNZ