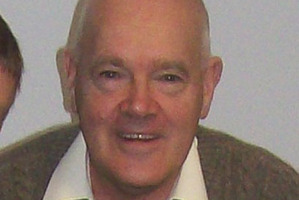 A Wellington grandfather who died two days after falling from a stepladder was sent home from hospital with painkillers by a doctor who "seriously underestimated'' his injuries, an inquest has been told.
Gary Donald Wilmshurst had been sanding the outside of his house in Porirua when he fell one metre and landed in a tiered rock garden on Boxing Day in 2011.
Two days later, on his 62nd birthday, he collapsed and died as family members arrived to celebrate his birthday.
An inquest into his death was heard before Coroner Ian Smith in Wellington today.
The inquest was told medical staff at Kenepuru Hospital's accident and medical centre did not order a chest x-ray, which could have revealed fractures to his ribs.
Instead, Dr Philip Gartland diagnosed Mr Wilmshurst with bruising of the ribs, ordered a tetanus injection and prescribed painkillers before sending him home.
A post-mortem examination found Mr Wilmshurst died of blunt-force trauma to his chest. His injuries included eight fractured ribs, a collapsed lung, and internal bleeding in his chest cavity.
Emergency medicine expert Dr Peter Freeman, who prepared a report for the coroner, told the inquest it was clear that Dr Gartland had "seriously underestimated'' the injuries.
He said if an x-ray had been ordered, the fractures would have been clearly visible and Mr Wilmshurst would have been admitted to hospital, where the complications may have been detected.
Dr Freeman said the injuries were recorded as having happened on the previous day, rather than two hours before the examination, and it was possible Dr Gartland had given insufficient time to patient history.
Appearing by video link from New South Wales, where he now works, Dr Gartland said it was standard practice to order a chest x-ray if a patient had difficulty breathing, and to order blood tests if a patient was tender.
However, he did not do so because Mr Wilmshurst had only minor bruising and there was no evidence he had suffered an internal injury.
Dr Gartland said there had been an "unforeseen and tragic outcome'' and apologised to the family for the documentation error.
He said it was possible the CPR performed on Mr Wilmshurst had been responsible for some of the rib fractures.
Dr Freeman agreed it could explain some fractures, but it was highly unlikely to be responsible for all eight.
Kenepuru Hospital's accident and medical centre clinical leader, Dr Jane Kelly, said a review had taken place. She agreed it had found the decision not to perform an x-ray was justified.
A separate investigation by the Health and Disability Commissioner had found the standard of care was appropriate.
Dr Kelly said extra triage training since had been implemented.
Mr Wilmshurst, who was married to his wife Maureen for 40 years, and had two children and two grandchildren, was described as a good handyman who did most of the home maintenance.
Constable Keith Stevens told the inquest Mr Wilmshurst had discussed using scaffolding to paint parts of the house where the ground was uneven, but on the day of the fall, he set to work sanding the facia from a two-step ladder.
"The ground was uneven and when Gary reached too far, the ladder toppled over and he fell into a tiered rockery garden.''
Mr Wilmshurst was able to stand up and make it to a chair inside his house, but he was in "extreme pain'' as his wife drove him to hospital.
When he returned home, he found it too painful to move or lie down, despite the painkillers, so he mostly remained in a La-Z-Boy chair.
Two days later, he was concerned about his condition and left a message with his doctor.
But by that afternoon, when family members had arrived to celebrate his birthday, he had turned pale and his breathing had sped up. He collapsed and attempts to revive him were unsuccessful.
Coroner Smith reserved his findings.
- APNZ