From Cape Reinga to the Bluff, the New Zealand Herald's epic roadtrip has begun! To celebrate the Herald's 150th anniversary we're on the hunt for your greatest stories.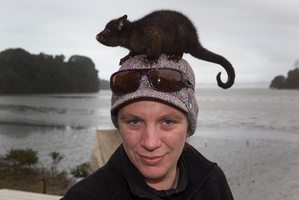 When it came to the Wallabies, Robbie Deans lasted longer than anyone expected.
But in the Bay of Plenty, there's a possum carrying the same name who has even shorter odds on survival.
The 10-day-old marsupial was clinging for dear life to Kelly Hayes, 34, when the New Zealand Herald Greatest Stories road trip rolled through Ohiwa, between Whakatane and Opotiki.
She took a break from work as a short-order cook at the Ohiwa Oyster Farm to show off Robbie Deans, named on a whim for the former Canterbury rugby coach who went to a rocky tenure coaching the Australian national side.
This one was rescued from his dead mother after a recent possum shoot.
Since then, Ms Hayes has taken on the role of surrogate mother and Robbie Deans goes most places she does.
"He's been to a restaurant and to the fishing club," she says. When he gets placed on the ground, he scampers straight to her leg and clings on like he would in the bush.
As yet, he's too small to inflict the damage on her kneecaps an older possum might do to a tree.
He's less inclined to chew trees when offerings currently include apples, bananas, grapes and mangoes. "He likes salt and vinegar chips too, and yoghurt icecream."
As he grows, Ms Hayes agrees his long-term prospects are doubtful.
"It depends if he wants to leave home or not." The decision to leave home had the other Robbie Deans looking like a possum in the headlights for years. Prospects, she agrees, are not good.
Your story
Do you have a great yarn or captivating tale to share? Fill in the online form here, email your stories, photos or video to nzhgreatest@nzherald.co.nz or share your story on social media using the hashtag #nzhgreatest.