Two weeks after collision with van, 'gutsy' Waikato Dio cyclists win silver at nationals.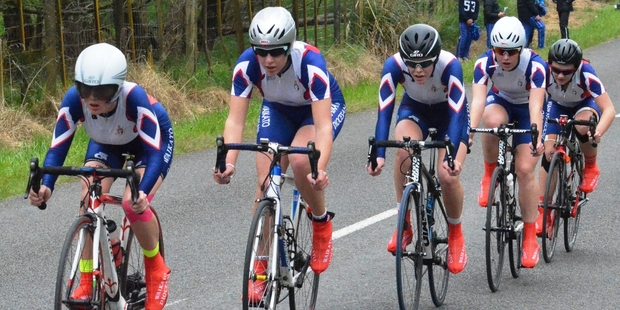 A team of "exceptionally gutsy" schoolgirl cyclists have won silver medals in a national competition less than three weeks after they were injured in a road smash.
The Waikato Diocesan School for Girls senior A cycling group rode to second place in the team time trial event of the national secondary schools road cycling championships at the weekend.
It was the comeback they had hoped for after four of the five teenagers and joint coach Pip Sutton were injured in the crash with a van north of Hamilton on September 10.
Maxyna Cottam, Maggie Allan, Loran Mathis and Madison Farrant, all 17, were in a collision with the van at a rural intersection near Taupiri while on a training ride.
Fifteen-year-old Brigitte Allan watched from the back of the pack as older sister Maggie, a former New Zealand development squad member, was the collision's first casualty.
The squad suffered head and limb injuries, including concussion, a swollen lip and black eye for Loran and a broken wrist for Ms Sutton.
The team's main coach, Dave Spring, called the girls an inspiration for getting back on their bikes and claiming silver medals at the competition in Feilding at the weekend.
"They were very emotional afterwards. It's been a rollercoaster two weeks and they've been really determined they were going to get back on their bikes.
"They really had no idea how they were going to go. I think maybe deep down they thought that they couldn't do it. But they did do it."
Mr Spring said the students did not use the crash as an excuse, instead inspiring the Hamilton school's junior cyclists with their effort.
"They're exceptionally gutsy girls. We're all proud of the way they've put it behind them and just got on with it."
Mr Spring said three of the girls involved in the crash also achieved top 10 placings in the individual ride yesterday, and the group will compete in individual lap races today.
Loran, who still suffers headaches from her head injury, achieved 10th, Madison, 7th, and Maggie, 8th, in the under-20 rankings.
The team had managed only two training rides since the accident, including one the day before the weekend event, because they were nervous about being back on the road, but Mr Spring said their focus paid off.
Waikato Diocesan spokeswoman Debbie Stevens said that just days before the team left for the championships, Madison Farrant, the school cycling captain, still required x-rays on her injured foot.
"That was to see if she was going to be able to go."
Waikato Dio were second behind St Kentigern College in Auckland. St Peter's College, Cambridge, were third.
Meanwhile, police are still investigating the cause of the crash near Taupiri and say a decision on whether charges are to be laid will be made this week.
Racing back
Secondary schools champs
Senior time trial: Saturday
1st: St Kentigern College (Auckland)
2nd: Waikato Diocesan School
3rd: St Peter's College, Cambridge
Individual under 20: Yesterday
Madison Farrant, 7th
Maggie Allan, 8th
Loran Mathis, 10th