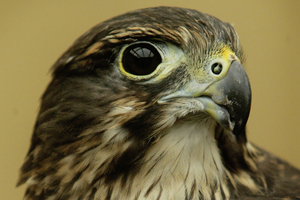 Radio broadcaster Hayley Holt, singer Barnaby Weir, United Future leader Peter Dunne, and TV personality Wallace Chapman are among the well-known New Zealanders getting ready to go in to bat for their favourite native bird in Forest and Bird's annual Bird of the Year poll, which opens tomorrow.
The poll, in its ninth year, aimed to raise the profile of New Zealand's bird species.
Each year well-known New Zealanders come on board to champion their favourite bird, as campaign managers in the Bird of the Year poll.
This year radio broadcaster Hayley Holt has a head-start because her favourite bird - the critically endangered fairy tern - is tattooed onto her body.
Several organisations, including Weta Workshop and Sustainable Coastlines, will also be taking up the role as birdy ambassadors.
Last year, comedian Raybon Kan campaigned fiercely for the karearea with the tagline "NZ's got talons'' and won the title with 1261 hard-earned votes.
Forest and Bird's advocacy manager Kevin Hackwell said the passionately-contested poll is a great way to learn about the conservation issues our native birds face.
"As well as underlining the quirks of our native birds, the poll helps to highlight some of the threats they face.''
Voting runs from 9am Monday September 30 until 5pm, October 28 at www.birdoftheyear.org.nz
Previous winners:
* the tui (2005);
* the fantail/piwakawaka (2006);
* the grey warbler/riroriro (2007);
* the kakapo (2008);
* the kiwi (2009);
* the kakariki (2010);
* the pukeko (2011); and
* the karearea (2012).