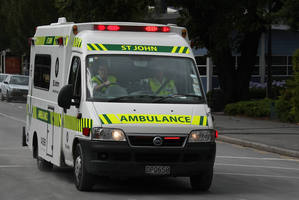 One person died and five others were injured in crashes across the country over the weekend.
Two men suffered critical injuries after a head-on collision between quad bike and motorcycle on a remote track north of Wellington on Saturday.
Rescue helicopters from Wellington and Palmerston North were called to Karapoti in the Akatarawa Forest, north of Upper Hutt, about 12.30pm.
Life Flight Rescue Helicopter crewman Colin Larsen said the men were believed to be in their 20s.
They were flown by both rescue helicopters to Wellington Hospital's emergency department and were set to be transferred to the hospital's Intensive Care Unit.
The crash happened at a "slight bend'' on the forestry track, Mr Larsen said.
Members of the public discovered the crash and alerted emergency services.
"The guys who came across the accident did well in getting some out - they had to ride about 20km back out to the Karapoti carpark to get coverage.''
After getting a good description of where the crash happened, one of the rescue helicopters was able to land about 150m from the scene.
Meanwhile, on Saturday a car slid 80m before smashing into two cars that had already crashed on a busy Northland highway, leaving one passenger dead and three others injured.
The car was travelling south on State Highway 10 at Kerikeri when it hit two cars sprawled across the road outside the Kerikeri Farm Hostel.
An 18-year-old German backpacker ran to the scene of the first accident and was distressed to witness the fatal crash, a hostel worker said.
One person died at the scene and Northland Rescue Helicopter took two teenage girls with serious injuries to Whangarei Hospital.
A 21-year-old male driver was taken to Bay of Islands Hospital with moderate injuries.
Condition updates of those injured in the crashes were not available.
In Wellington, traffic was brought to a standstill in the central city on Saturday after a vehicle came off the back of a tow truck and landed on its roof on the road.
The crash happened on Jervois Quay about 10.45am, Inspector Marty Parker of central police communications said. A witness said it appeared that a car had come off a tow truck.