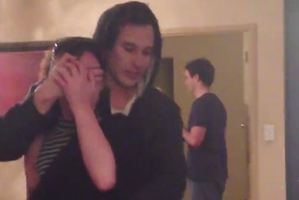 A young Kiwi woman filmed being bullied and humiliated by two former boyfriends is distraught after the nasty video went viral.
More than two million people around the world have viewed the clip of Courtney Drake being confronted by the two young men at a flat in Birkenhead on Auckland's North Shore. It was posted online this week.
The video - with the tagline "Busted" - shows Drake being led into the apartment by one of the men with his hands covering her eyes. He tells her she is in for a big surprise.
The unsuspecting woman is then marched to a living room and sat on a couch next to another former boyfriend.
The men accuse her of cheating on them and she is repeatedly called a "slut" and a "b****" by one, before she flees the apartment looking shocked and close to tears.
The video, which has been removed from YouTube, has prompted tens of thousands of abusive comments about Drake on other popular sites such as LiveLeak and worldstarhiphop.com.
Drake, from West Auckland, told the Herald on Sunday she quit a part-time job as a barmaid on Thursday because of the reaction to the video. She said she was frightened to leave her house.
"My face is all over so many websites and I feel I have been unfairly named and shamed," she said. "I was dating one of the guys for about 18 months but I thought the relationship was over, so I had started seeing the other guy.
"To do that was really nasty and hurtful to me and my family. Even my aunt in Scotland has seen it.
"I have seen thousands of abusive messages about me online and had phone calls from strangers telling me I am a cheat and deserve to be hunted down. It is frightening."
Drake said she recently started seeing one of the men, Borjan Dzarliev, a student from Browns Bay, after breaking up with a previous boyfriend, whom she would name only as Charlie.
In the video, Dzarliev throws in her face a dress he claims she left at his house, then launches a foul-mouthed verbal attack.
Asked yesterday if he regretted the video, he said he had since talked to Drake and hoped they were "on better terms".
"This has gone too far. I really don't want to say any more."
Drake's mother, Helen Chapman, said the family were disgusted by the men's actions and were considering reporting them to the police.
Sean Lyons, chief technology officer at NetSafe, said it was one of the worst cases of online bullying he had seen in New Zealand.
"It is excruciating. It is horrible abuse caught on camera and the girl looks very scared. It is awful in the extreme and the whole thing was clearly filmed by a third individual, which makes it all the more disturbing."
A spokeswoman for Waitemata district police said any concerns about cyber bullying would be taken seriously and followed up through appropriate processes.