Repairs to new defence helicopter may cost more than $10m.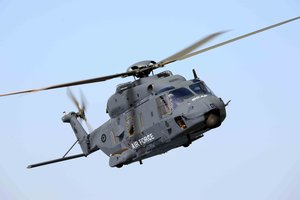 A new twin-engined air force helicopter will need all its rotors repaired or replaced, at a cost of millions of dollars, after being hit by lightning.
Answering questions from the Herald on Sunday this week, the force revealed it didn't know when the NH90 helicopter would return to service or how much it would cost to fix. However, one industry source put the cost of repairs at more than $10 million.
Labour defence spokesman Phil Goff said he would ask questions this week in Parliament about the extent of the damage and how long the craft would be out of commission.
A Defence Force spokeswoman confirmed all four main rotor blades and tail rotor were badly damaged in a severe lightning strike, and several other structural parts needed replacement or repair.
Strategic external relations manager Ally Clelland said the air force was still assessing the damage but the avionics system appeared to be unimpaired.
"The NH90 will be repaired but, because it is still being assessed, it is not yet clear when it will be returned to service," said Clelland.
Defence Minister Jonathan Coleman announced the purchase of the eight new helicopters in March last year to replace an ageing fleet of Iroquois helicopters.
The eight NH90s, with full support and logistics package, cost $771 million with the aircraft representing just under two-thirds of the cost.
The lightning strike happened on August 22, about four nautical miles northeast of the Ohakea air base.
Crew managed to land the helicopter safely at Ohakea and no one was injured.
Goff, who had ordered the upgrade as Minister of Defence, said he was concerned about a lack of transparency surrounding the incident.
Aviation expert Peter Clark said replacing the rotor blades would cost millions: "They are very expensive. I wouldn't put a price on them but I consider this to be a very serious matter on this machine."
Clark said aircraft were designed to withstand lightning strikes so questions needed to be asked of the manufacturer. "It worries me that these are brand-new, multimillion-dollar machines and we're already finding we're grounding them because we've had a lightning strike."
Clark questioned whether the helicopters could be deployed in bad weather, including for rescues.
The Government would pay for repairs as it self-insured the Defence Force fleet.
When the first craft was unveiled this year, Coleman called the NH90s the most advanced and capable helicopters in the history of the air force.
The Minister said the helicopters would undergo a rigorous operational test phase of about 18 months to ensure they were safe and fit for purpose before they were put to use.
- Additional reporting Matthew Backhouse of APNZ