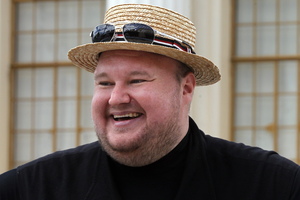 Economic Development Minister Steven Joyce says the Government is keeping an open mind about funding another America's Cup bid and would treat any application for a taxpayer subsidy seriously.
The Government has previously hinted it would put money into a New Zealand syndicate only if Dean Barker's crew won this year's event and the hosting rights for Auckland.
Mr Joyce, who arrived back from San Francisco yesterday, had brief post-race conversations with Emirates Team New Zealand's key players such as Barker and Grant Dalton before leaving the city.
"They need a bit of space to think about what's next. Once they've had that space, if they did want to consider another challenge and wanted to talk to us about the Government supporting it alongside others, then we'd treat that seriously.
"In short, we'd have an open mind. We wouldn't say that we weren't interested at this point."
The minister said a taxpayer-funded campaign could depend on the structure of the next America's Cup, which would be decided by the holder, Larry Ellison's Oracle.
He said the location of the next series was important because it needed to be a city which was conducive to leveraging New Zealand business. San Francisco had been an ideal spot for NZ tech companies to appeal to Silicon Valley investors.
The previous Labour Government committed $36 million to this year's bid, and a further $4 million was invested in leveraging activities.
Mr Joyce said Government would also have to consider the sponsorship another bid would attract.
Team NZ appeared to already have one offer of private funding, from internet entrepreneur Kim Dotcom.
Mr Dotcom tweeted yesterday: "Prime Minister John Key says no more funding for Team NZ? I say [Mega] will become a Team NZ sponsor & we will win next time."
Mr Key, in New York, said Mr Dotcom was welcome to make a contribution and it would not affect a Government subsidy if he was one of the funding partners.
Mr Dotcom is facing an extradition order to the United States for criminal copyright violations.
Mr Joyce said the offer was all part of Mr Dotcom's PR campaign. He added: "Though I suppose it would cut things short if he popped over to San Francisco ... that would save us all a bit of hassle I suppose."
Auckland Mayor Len Brown said any future investment decisions were something the Government and Team NZ should "carefully examine". "Many people would say Auckland's marine industry and yachting prowess had as much to do with Oracle's win as it did with Team New Zealand's magnificent challenge, and any further challenge would obviously again profile New Zealand's reputation as a great yachting nation."
Dr Geoff Dickson, Associate Professor Sport Management at Auckland University of Technology, said whether the Government should fund a challenge depended on what they wanted to get out of it.
Any review of the investment needed to be balanced against the exposure the country, and its exports, received during the Americas's Cup and whether it was worth the investment - even without a victory.
Another thing to consider was the level of commitment. "I'm sure Team New Zealand will come to them and ask for more [money] ... And they will say we need more because look what happened last time."
The prospect of soaring America's Cup costs was another factor in that it could quite quickly be a barrier to entry for almost anyone. "Larry Ellison will not want to be only racing himself," Dr Dickson said.
On the streets of Auckland yesterday, support was high for a new challenge - and the use of tax money.
Darren Peacocke, 32, said it would be a shame if Team NZ didn't sail again. "It's kind of unthinkable really, but I guess this race showed you need a bucket load of money. I think we should do it but it would need Government support."
Jason Mason, 44, agreed Team NZ should sail again.
Uses for the big cat
Emirates Team NZ has done us proud. So what should we do with the big cat?
1. Make it a monument on Princes Wharf by Shed 10, the home of the New Zealand fans.
2. Do tours around the Viaduct and charter it out to people with deep pockets for day trips.
3. Sail it around the country so every Kiwi can see it with their own eyes.
4. Float the body out in the harbour and let people use it as a giant floating trampoline.
5. Recycle it - use the carbon-fibre for the next boat.
- Additional reporting: Andrew Koubaridis