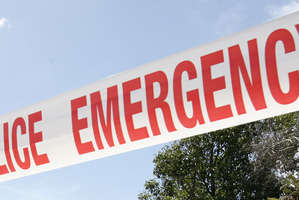 Police investigating the rape of a young Christchurch mum are following up public sightings of the alleged suspect.
The sexual assault happened on mid-Tuesday morning while the woman, in her 20s, was at her Middlepark Rd home caring for her 7-month-old baby.
Officers say the attacker, a Maori or Polynesian aged in his 40s, of tall and stocky build, was wearing an orange fluoro high-vis vest when he talked his way inside, saying he was there to inspect storm damage.
Police have released a detailed description of the suspect - saying he has a large nose with some red markings, a slightly bushy moustache and dark, mop-like hair almost to his eyebrows and covering his ears.
Officers earlier believed his top two teeth were missing, but now think that one or two teeth might be missing on one side of his mouth
Now, Detective Senior Sergeant Darryl Sweeney, leading the hunt, says they've had some positive leads, with the majority of sightings have been in the southwest suburbs.
"The response from the public has been extremely good," he said.
"Several possible sightings have been reported to police staff conducting door-to-door enquiries in the area around Sockburn and Upper Riccarton. People have also been calling in with useful information.
"We have a lot of information that we will continue to work through - but we still need to hear from anyone who has seen a man similar to the description we have released, or any other unusual or suspicious activity."
Mr Sweeney says police are also interested the movements of any vehicles in the area that may have seemed suspicious or out of place.
The investigation, named Operation Middlepark, is continuing today with police staff again focusing on door-to-door area enquiries in the south-west suburbs.
Investigators are also visiting commercial premises and making enquiries with bus operators and taxi companies.
CCTV footage is being collected from commercial premises, and police are asking business owners in the south-west to contact police if they have CCTV footage available.
Enquiries will continue through the weekend.
Mr Sweeney yesterday praised the victim as being "a very brave young lady".
"Of course she's very distressed," he said.
"She's been of immense help to the police for this investigation going forward.
"She's well supported by her family, victim support, and of course us in the police."
Anyone with information is asked to contact Christchurch police on 03 3637400, or by providing information anonymously through Crimestoppers on 0800 555 111.
- APNZ