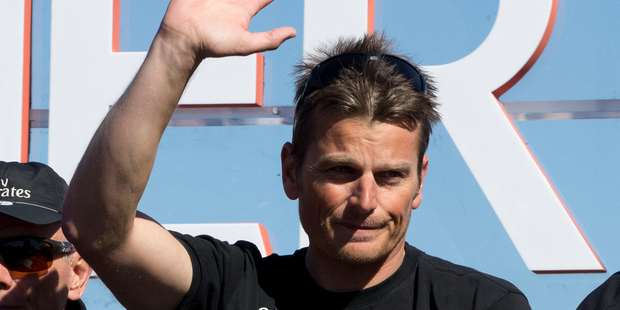 Unbelievable was the word everyone used when we won the America's Cup in 1995. "Unbelievable" was the word that came to mind again in the past week as Oracle Team USA came back from the brink of defeat to deny New Zealand the Cup. It will rank among the greatest and strangest turnarounds in sport and no doubt will be fertile ground for some dark conjecture on demons that may have beset Emirates Team New Zealand.
But the fact is that, whatever else may emerge, we were beaten by a faster boat and better racing decisions.
Team NZ has done us proud. There is no shame in a competition as great as this one has been, only disappointment. This is the moment when sport tests the character of its players and sometimes, when a nation becomes as involved as we have, it tests the national character too.
Some truths need to be acknowledged not just graciously but genuinely. Good as our team was, Sir Ben Ainslie proved to be the more astute tactician and Jimmy Spithill the more aggressive helmsman. Fast as our boat was, Oracle appeared to be faster once Ainslie came aboard and the crew had mastered their craft.
This was a match at yachting's cutting edge. If there is a simple explanation for the strange turn of events it may be that Team NZ was match-fit in the first week, thanks to the Louis Vuitton series, and Oracle was not. Our team looked to have a sturdier boat easier to sail, Oracle appeared smaller, lighter, harder to handle.
Both boats were built in New Zealand, both campaigns were organised and led by New Zealanders. Sir Russell Coutts, as the defender, not only planned the new racing format but, according to Spithill, his leadership was behind much of their performance on the water, too.
The new America's Cup has been everything Coutts promised, big catamarans match racing at high speed, a spectacle such as yachting has never seen. If this proves to be the future of the America's Cup, we can look back with pride on this country's contribution to it. And if it has been a one-off, too expensive to attract enough challengers, we will count ourselves fortunate to have taken part.
Either way, we will never forget the experience of the past fortnight, when it seemed everyone had tuned in to the races each morning and shared the excitement, the anticipation, then the agony. It might not have matched the nationwide party we had for the duration of the Rugby World Cup, but it was captivating while it lasted.
Now a decision needs to be made. Should Team NZ be kept alive to try again? It was an injection of public funds by the Labour Government after the loss at Valencia in 2007 that kept Grant Dalton's team together and enabled it to raise the finance for another challenge. The public should consider that money well spent. Dalton has not delivered the Cup but he has delivered a challenge that came achingly close - beaten only by the clock last Saturday.
He has delivered excitement, pride, disappointment and the honour of a good fight.
It is time now perhaps to end our pursuit of the America's Cup. We have had it, the souffle does not rise twice. Had we won it again, it might have been hard to maintain the interest of our previous tenure.
The Cup has its own problems as the plaything of extremely wealthy individuals who seem content to win it in court if they cannot succeed at sea. If the interval between defences is as litigious as the last one, we will be glad we are not preparing to host the next.
No matter where the Cup goes, our marine industry and sailors have made their reputations with it. They have given us pleasure, made us proud and we salute them.
Debate on this article is now closed.