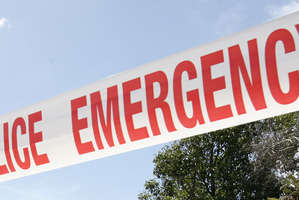 A young woman was raped in her Christchurch home while caring for her 7-month-old baby by a man who talked his way inside, saying he was there to inspect storm damage, police said today.
Police have released a detailed description of the attacker, saying he is a Maori or Polynesian aged in his 40s, of tall and stocky build.
The victim raised the alarm about 11am on Tuesday morning.
Detective Senior Sergeant Darryl Sweeney, leading the hunt, says the man has a large nose with some red markings, a slightly bushy moustache and dark, mop-like hair almost to his eyebrows and covering his ears.
Police earlier believed his top two teeth were missing, but now think that one or two teeth might be missing on one side of his mouth.
At the time of the incident he was reported to be wearing an orange sleeveless hi-visibility vest with a silver reflector strip around the waist area, light blue straight-cut jeans and white sneakers.
"We now have an excellent description of the offender, and we are confident that this will give added momentum to our investigation,'' Mr Sweeney said.
Police are not releasing a computer-generated image of the suspect.
"The number one focus for our team is now on locating the man responsible for this crime - and we are appealing for all possible assistance from the public to identify and apprehend him.''
Mr Sweeney said police now have a clearer picture of the events of Tuesday morning.
"At around 10.50am on Tuesday the victim, a young woman in her 20s, was at home at her Middlepark Road flat with her seven-month-old baby.
"The offender has knocked on her door and spoken to the victim, claiming to be at the address to inspect storm damage. We do not believe he claimed to be representing any particular organisation.
"He talked his way into the residence, and threatened and assaulted the woman. The baby was not harmed in the incident.
"It appears that the offender was only at the property for a short period of time before leaving, and we do not know in what direction he travelled or his mode of transport.
"The victim then called emergency services, who arrived at the scene promptly.''
The victim is now with family and is being well supported by family, Victim Support and police liaison staff, Mr Sweeney said.
The forensic scene examination at the address was completed yesterday.
A team of around 30 police staff including detectives and uniformed officers is continuing wide-ranging enquiries, he said.
"We are maintaining a significant presence in the Sockburn area, but also widening our enquiries to surrounding residential areas, commercial premises, hotels, bars and other locations of interest.
"Behind the scenes we are also reviewing our files on known offenders and looking at other recent incidents such as burglaries or assaults or reports of suspicious activity in the area.''
A "significant number of calls'' have already been received from members of the public, but the investigation team is continuing to urge people to come forward with any information.
"We want to know about any suspicious activity, incidents or anything out of the ordinary that people may have noticed during the past few weeks in the Sockburn and Upper Riccarton areas and the surrounding south-western suburbs,'' Mr Sweeney said.
"If anyone recalls seeing a man of similar description, or if they have had people knocking at their door asking about storm damage, or any other accounts of unusual activity, people or vehicles, please get in touch with police as soon as possible.''
Anyone with information is asked to contact Christchurch police on 03 3637400 or anonymously through Crimestoppers on 0800 555 111.
Acting district commander Superintendent Andy McGregor said local residents can be assured that police are putting all available resources into locating and apprehending the offender.
"Offences such as this as very rare in Christchurch, and there's no evidence to suggest that anybody else is at risk,'' he said.
"Our investigation teams are working day and night on this case, and I have made additional patrol staff available to ensure that we have a strong, visible presence on the ground as part of area enquiries.
"We also remind residents to always check the credentials of any official, contractor or tradesperson that knocks on your door.
"A hi-vis jacket is no guarantee of authenticity. Representatives of genuine agencies and organisations will always carry appropriate identification.
"If the visitor is not someone you know, always quiz the person, ask to see their identification, and if you have any doubts at all, telephone the organisation to check that the caller is genuine.''
- APNZ