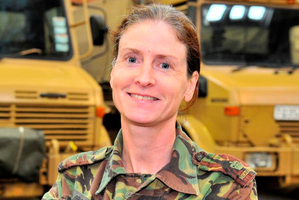 Safe and sedate, Dunedin is a stark contrast to Afghanistan, where driving to work is risk and walking alone even more dangerous.
Dunedin soldier Amanda Brosnan has returned from a six-month deployment in the fraught country, where she was stationed in Kabul as a military adviser.
Major Brosnan woke one morning to the bombing of a compound occupied by contractors to the International Security Assistance Force about 800m down the road.
She said 2500kg of explosives blasted a 6m deep, 16m long crater in the ground and killed more than a dozen people.
"It was huge. It was the size of a rubbish truck packed with explosives."
Despite the incident, Maj Brosnan said her time in Afghanistan did not make her husband, Godfrey, and their children ill at ease.
Her husband was a former soldier and had been deployed overseas, and their children were reassured somewhat by the low profile Afghanistan had in New Zealand news.
Maj Brosnan applied for the individual deployment through the New Zealand Army, although she was working for the United Nations Assistance Mission in Afghanistan (Unama).
Her task was to help civilian Unama staff, from Afghanistan and around the world, to understand military operations within the country.
"We helped them make sense of it. Unless you've been in the military, it's hard to understand some of the tactics and operations," she said.
Afghanistan was a part of the world Maj Brosnan had hoped to visit, and she had not previously worked with the United Nations.
The trip was an eye-opener for various reasons, and a lesson in what New Zealanders take for granted.
"You can't walk around the streets by yourself as a foreigner because of threats of abduction, and driving around Kabul is an experience - it's like the Wild West."
Maj Brosnan's interaction with Afghan civilians was limited, although she met some who had been educated in the West and found their conservatism surprising.
"You talk to them, thinking they're not that different to Kiwis, until the subject turns to family and then they are very conservative."
She hoped to work overseas again, after finishing her legal studies.