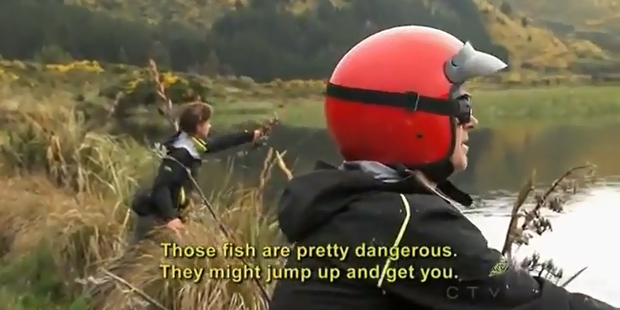 Our accents are so unintelligible an American reality TV show has slapped subtitles on us - but a linguist says we shouldn't take it badly.
In a Kiwi-hosted episode of The Amazing Race which aired here last night, several comments by Canterbury locals were put into subtitles.
In one scene, where father and son contestants Dave and Connor O'Leary are fishing while still wearing racing helmets, North Canterbury Fish and Game officer Dirk Barr makes a friendly quip.
"Those fish are pretty dangerous, they might jump up and get ya," he says, his comments spelled out on the screen for the 10 million US viewers who tuned in.
Mr Barr last night told the Herald he was surprised at the move, but guessed it would benefit the show's wider global audience.
It's not the first time American TV producers have branded foreign accents with this dubious honour.
In a well-publicised case last year, Nadine Coyle of pop group Girls Aloud had her thick Irish accent subtitled when she appeared on America's Next Top Model, while UK girl group The Saturdays got the same treatment on US television this year.
But Auckland University language expert Dr Helen Charters said we shouldn't get upset by it.
"Linguistically, it's very interesting because it's a way of saying this is not standard English - they are sending the message out quite clearly to their viewers," she said.
"I think we should take it as an acknowledgement that we have our own New Zealand way of talking, and what we're saying is seen important enough they want to give it subtitles."
Dr Charters said it was important to appreciate everyone had accents - and we were no different.
New Zealand English was spoken in what's called a non-rhotic dialect, where we don't pronounce the letter R as most Americans do, and Kiwis also spaced vowels differently.
"In a series of words like pin, pen, pan, pun ... American listeners would tend to hear them as different words."
Watch a documentary on the evolution of New Zealand English, courtesy of NZ on Screen: