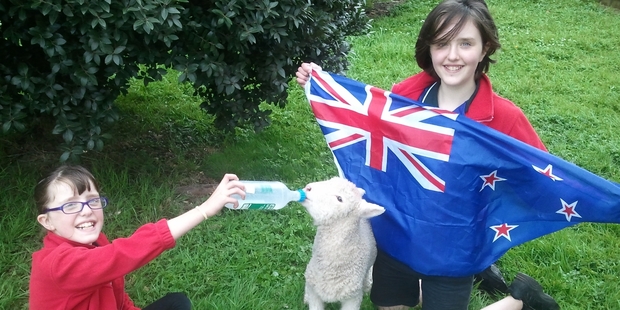 While the skipper of Team New Zealand is utterly determined to bring the Auld Mug home, a Manawatu family are crossing their fingers that their pet lamb is sign of good fortune to come.
"I think he's cool and that he might win the race for us. He'll help them win because his name's Dean Baakaa," said Heidi Turnbull, 9.
Dean Baakaa was born the day the series started. He was meant to be called Milky but in the excitement of both the lamb's arrival and the regatta, Heidi's mother, Karen Hurley, decided a play on the name of the Team NZ skipper Dean Barker might be more appropriate.
Ms Hurley said conveniently she also "lost the paperwork" for the name Milky.
But Heidi thought it worked out for the best anyway.
She's been watching all the races either at home or school and has been cheering the team on.
"I think that New Zealand's going to win - maybe, possibly," she said.
But win or lose, the family is proud of the real Dean Barker and his team and promised that Dean Baakaa's name won't be changed. All's wool that ends wool.
Always a chance of a dramatic turnaround
In sport, there's always hope that things will work out the way fans desperately wish them to go, even when the momentum seems to be running with the opposition. Here are two examples which illustrate the truth of the old phrase that it ain't over till the fat lady sings.
1979: Arsenal vs Manchester United, Wembley Stadium
Arsenal held a 2-0 lead for 85 minutes and the game was all but won. But in the 86th minute, Gordon McQueen scored following a set-piece and two minutes later Sammy McIlroy dribbled past two Arsenal players to score a dramatic equaliser. Then in the very last minute, Alan Sunderland scored a third goal making the final result Arsenal 2, Manchester United 3.
2000: All Blacks vs Wallabies, Sydney
In the opening match of the Tri Nations Series, the All Blacks raced out to a 21-nil lead. Australia fought back and the score was a draw at half time. With minutes remaining, the Wallabies led 35 to 34 but then Jonah Lomu sneaked down the line and scored the winning try - to give the All Blacks the game, 39-35.