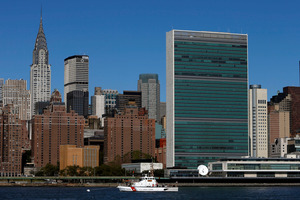 Prime Minister John Key's dance card in New York is crammed from top to bottom with meetings - and the dance partners are not the usual ones as he tries to woo votes for a seat on the Security Council.
Mr Key arrived in New York yesterday for the United Nations General Assembly and went straight from the airport to a state lunch hosted by UN Secretary-General Ban Ki Moon. Over the next four days, he will wedge in about 50 meetings with leaders and delegations from other countries between the official UN business - a schedule he described as "a sort of speed-dating".
It will be a critical meeting for Mr Key in the campaign to secure votes for New Zealand's bid for a non-permanent seat on the Security Council. He cannot attend next year because of the election campaign in New Zealand, when he will be fighting for National to secure a third term in Government.
In New York, leaders of countries such as Togo, Comoros, Lesotho, Benin and Burkina Faso have taken priority over even US President Barack Obama.
That is part of a strategy to target Mr Key's time toward Caribbean, African and Middle East leaders he will not otherwise meet at other international meetings, such as the East Asia Summit or Apec next month. Because of that, New Zealand's officials did not seek a meeting with President Obama, although the pair could have a quick "pull-aside" chat at one of the functions during the week.
Instead, Mr Key will have to settle for former US President Bill Clinton, who is hosting a reception. Mr Key will also meet one of the rival countries for the Security Council seat - Turkey's President Abdullah Gul. There are two seats on the council going, and New Zealand is up against Turkey and Spain, so Mr Key is likely to ask Turkey to consider voting for New Zealand for one of those seats.
Other interesting meetings include the President of the Palestinian National Authority, Mahmoud Abbas, and he will touch base again with Colombia's President Juan Manuel Santos Calderon, whom Mr Key visited in March this year.
Mr Key's attendance at the General Assembly is aimed at getting as much face to face time on the international stage as he can before the election year clips his wings.
Mr Key said ideally he would be able to attend in 2014, "but it's impossible to explain at home that you're swanning off to New York when there's an election coming up".
Mr Key has warmed up while in the United Kingdom and Paris, meeting British Prime Minister David Cameron, French President Francois Hollande and French PM Jean-Marc Ayrault. Both countries are permanent members on the Security Council and influential in Europe, although they do not declare who they are supporting.
Mr Key said he was optimistic but realistic about New Zealand's chances - pitching to a sense of a fair go. "I think it's a little bit like bidding for the Olympic Games. Everyone tells you they're going to vote for you and in the end it's not quite so straightforward."
Foreign Minister Murray McCully has spent the past week travelling around the Caribbean nations to try to secure support, and former Commonwealth Secretary-General Sir Don McKinnon has also been called on to help secure votes.
New York prepares for gridlock
If it's late September in New York, it's United Nations General Assembly time. For New Yorkers, that means one thing - major gridlock. The assembly meets for a week starting on the third week of September, and this year is the 68th session. US President Barack Obama is in town, which means drivers are halted by numerous street closures. Even New York's bike hire CitiBike has closed some stations. With heavy-hitters rolling about the city, entire blocks will be shut down, for cars as well as pedestrians.