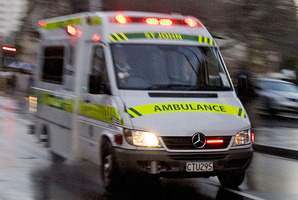 St John staff were not to be criticised for their resuscitation attempts on a drowned 22-month-old girl, a coroner has found.
Coroner Carla na Nagara's finding was released today into the dearth of Hannah Maree Thomsen.
Hannah died on January 2, 2011 after she was left playing without appropriate supervision in a swimming pool at her home.
Coroner na Nagara said the case reflected the abject danger of leaving children unattended in water, and served as a tragic reminder of the need for close and direct adult supervision of young children in water.
Off-duty ambulance officer David Craig, who attended the scene that day as a volunteer firefighter, said in a witness statement prepared four days after Hannah's death that he was in "utter disbelief" when resuscitation attempts were stopped.
However, he did not feel he was in a position to express his views.
Coroner na Nagara said Mr Craig's statement was "essentially a litany of concerns he had about the other ambulance officers' conduct, prepared with the benefit of hindsight".
"It was highly critical of his colleagues, and in some instances was directly personal."
Coroner na Nagara said she did not consider the decision to terminate the resuscitation caused Hannah's death, nor did Mr Craig's failure to speak up.
"However, I consider Mr Craig's actions both in not speaking up at the scene, and after Hannah's death in criticising his colleagues in the manner he did reflect a level of dysfunction in the relationships within St John Marton at that time."
National medical advisor for St John, Dr Craig Ellis said there were systemic and relationship issues that were not helpful at the scene of the resuscitation, or in the aftermath of Hannah's death.
Coroner na Nagara said she had been advised that in the intervening two and a half years, steps had been taken to address those issues.
Hannah was pulled unresponsive from a swimming pool after having been unseen for an unknown period of time - likely to have been several minutes, Coroner na Nagara said.
"Her mother, who had previously trained as a nurse, struggled to clear vomit from her airway."
Resuscitation was continued for a total of about 10 minutes before the decision was made to terminate, Coroner na Nagara said.
"St John procedures have since been changed to provide that resuscitation efforts must continue for 20 minutes, not 10 to 20 minutes as previously provided."
"Having considered the evidence before me I accept that in terms of optimal or best practice, the resuscitation may have been terminated prematurely, but it is equally clear that in terminating the the resuscitation when they did, the ambulance officers in attendance did so in accordance with the St John Clinical Procedures that were operative at the time.
"Accordingly I do not consider they are to be criticised for their actions that day."
Hannah's mother Mary-Anne Illston was discharged without conviction at the High Court in Wellington in November 2011 for a charge of manslaughter in relation to the death.
At the time, Justice Forrest Miller said Ms Illston left Hannah and other children at the pool without supervision after she heard her two-week-old baby crying inside the house, 15 metres away.
Ms Illston had intended to bring the newborn back out to the pool but stayed inside to change the baby.
A very short time later she returned to find Hannah had drowned in the deep end of the pool.
Justice Miller said Ms Illston had left the pool only briefly, with the intention of bringing her baby back at once.
She was also "exhausted and overwhelmed", having just had a newborn soon after losing her mother to cancer.
- APNZ