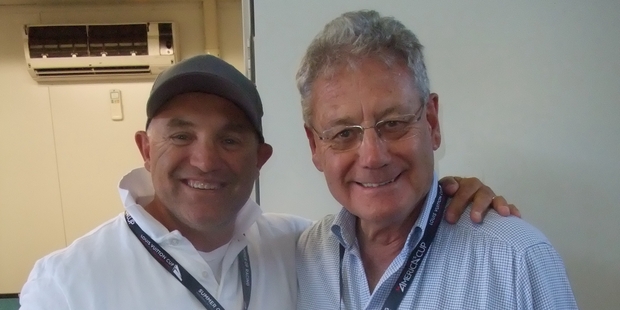 Salty veteran PJ Montgomery remains the voice of the America's Cup, with respondents to a nzherald.co.nz poll installing him as their favourite commentator by a whopping margin.
Over 40 per cent of the near 10,000 people who had responded yesterday afternoon voted the Radio Sport yachting buff their favourite commentator.
TVNZ comments man Peter Lester was Montgomery's closest rival, polling at just over 20 per cent.
Montgomery's right hand man, former Cup winner Craig Monk, barely rated a blip at 3.91 per cent.
TVNZ reporter and commentator Martin Tasker appears to have born the brunt of Kiwis' angst at recent events. Tasker's evident disappointment on Saturday didn't wash well with a massive TV audience, with #MartinTasker trending at number 10 in New Zealand as people vented their own frustrations about the quality of the commentary.
While some perceive that Montgomery is no longer as sharp as he once was, his popularity - thanks to memorable lines such as "the America's Cup is now New Zealand's Cup" and "the America's Cup is still New Zealand's Cup" - is clearly enduring. There has also been the odd major blunder, including botching the call when the Evers-Swindell sisters won their second Olympic gold medal.
Media expert Brian Edwards said Montgomery's popularity was likely attributable to his longevity in the industry.
"Just as there is old money and new money there is old fame and new fame," Dr Edwards said.
"If you are in the business long enough you develop this old fame and it means the public make a distinction between you and newcomers," Dr Edwards said.
"A point comes where you become a national institution. The best example of that is Paul Holmes."
Familiarity didn't necessarily equate to universal popularity.
"These people can often be both liked and disliked. Paul was liked and disliked in equal measure. But you become an institution."