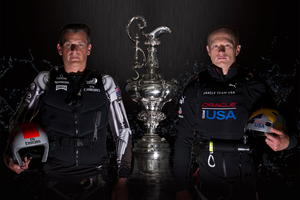 It's too early to say how much taxpayers would contribute to defending the America's Cup in New Zealand, Economic Development Minister Steven Joyce says.
Speaking from San Francisco, Mr Joyce told TV One's Q+A programme there were still too many unknown factors, such as where the racing would be held.
"It's really too early to say. There's all sorts of things that have to be considered, where it would be hosted in Auckland for example, what sort of support the team would need, what sort of support the infrastructure would need, the contribution that Auckland makes, all those sorts of things,'' he said.
"We'll work through all that when we've won it, but as we've seen in the last few days the thing still has to be won, and the other side are not giving up, they are very very focused on competing."
Mr Joyce said should Team New Zealand win the cup, he'd like to see more countries taking part in the challenger series.
"I think everybody would like to see more entries than has been possible in the current regatta, but that depends on a whole range of things, like the format and what sort of yachts they're going to race," he said.
But he said those decisions would be up to Team New Zealand, not the government.
Mr Joyce said involving the whole country, rather than just Auckland, would probably be a key focus as well.
"Talking to the Team New Zealand guys they're very aware of involving the whole country as I think they were last time," he said.
"The late Sir Peter Blake was very focused on that and they're very focused on Sir Peter's legacy as well, and they'd be seeking to involve the whole country if it comes to the point where the cup is won and we're holding a defence."
- APNZ