Thousands of people are expected to be huddled around TV screens for today's race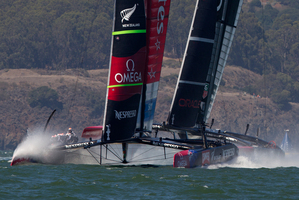 A record number of New Zealanders are expected to tune in to watch the Auld Mug potentially be secured for the first time in more than a decade.
So far the biggest audience was on Sunday morning when more than 820,000 people watched Emirates Team New Zealand almost capsize.
And media commentator Cindy Mitchener predicted similar audiences for this morning's races, if not more.
However, given it was a weekday people would be huddling around television screens at work, school or yacht clubs instead of switching on at home.
"The way it's run has been building the excitment. It's a talking point and it's been part of the fabric of life of this week.
"And technology's enabled the broader networks to bring people close to it."
The races had been rating higher than Seven Sharp and Campbell Live.
Ms Mitchener, of Mitchener Gillman Communications, said big events like the America's Cup helped galvanise the country.
"And it helps that we're winning. If we weren't winning, it'd mostly be yachting enthusiasts still watching."
Head of television at TVNZ Jeff Latch said they'd been blown away by the numbers of people watching the America's Cup across TV One and TVNZ ondemand.
Record numbers of viewers have been tuning in to watch the races first thing in the morning and online streaming of the event has skyrocketed.
Yesterday, a record 213,374 watched Race 11 online.
"Viewing numbers now exceed the 1995 America's Cup match in San Diego when New Zealand first won the America's Cup. The atmosphere in our building each morning is very tense as we inch closer to securing the Cup," Mr Latch said.
At TVNZ headquarters in Auckland's CBD, a big screen television has been put in the main atrium to create "a bit of atmosphere" and to get as many staff together as possible to watch the drama unfold, a spokeswoman said.
Head of news and online editor Cathy O'Sullivan said eight of the top 10 stories yesterday were on the America's Cup. The live updates on Race 11 were the most popular articles on all Herald online platforms for the day.
Since September 8, 31 per cent of nzherald.co.nz's total online audience has viewed America's Cup content.
On watch
• Sunday, September 8 - Races 1 and 2 541,800
• Monday - Races 3 and 4 - Breakfast Special 280,500
• Tuesday - rest day - Breakfast 8am to 9am148,580
• Wednesday - Race 5 - Breakfast Special 324,400
• Thursday - rest day - Breakfast 8am to 9am 181,160
• Friday - Races 6 and 7 - Breakfast Special 415,100
• Sunday - Race 8 - Breakfast Special 827,000
• Monday - Races 9 and 10 - Breakfast Special 361,400
• Tuesday - rest day - Breakfast 8am to 9am 152,520
• Wednesday - postponed data unavailable
• Yesterday, Race 11 data unavailable
Nielsen Television average Audience Measurement, all 5+