From Cape Reinga to the Bluff, the New Zealand Herald's epic roadtrip has begun! To celebrate the Herald's 150th anniversary we're on the hunt for your greatest stories.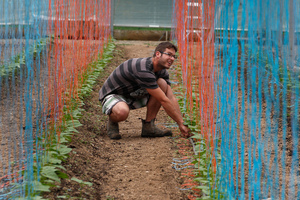 There's always soup, says Leigh Hibbard. He barrels back inside the shed to tend to supper, leaving the hothouse which produced the vegetables which went into the pot.
The Herald team came across Mr Hibbard, 27, as they stocked up on supplies in Dargaville when the Greatest Stories road trip rolled into town.
Raewyn Webb, of "Raewyn's Gardens", had gone home for the evening. Mr Hibbard remained to mind the roadside stall, set up outside a large plastic-covered hothouse.
Mr Hibbard's appearance is the culmination of his own journey back to the land.
He grew up at nearby Maungaturoto and wound up in Australia, working in IT. That adventure turned into insurance work in Auckland.
Work dried up and he moved back to the area he grew up. "I found the whole fast-paced thing wasn't my scene.
I wanted a slower pace of life."
His arrival coincided with a need at Raewyn's Gardens. The business is owned by his best mate Simon Lloyd's mum.
He pitched in willingly eight months ago - although he doesn't draw a wage.
"I wasn't sure how I'd handle going back to manual work but when you've got your best mate with you it's easy."
They produce beans, which are sold at auction, and courgettes, cucumbers and tomatoes which either go to local markets or out of the stall next to the hothouse.
Anything with a blemish didn't get sold. It went into the pot. "Soup, soup, soup," he said. "There's always soup."
Then Mr Hibbard was off. The soup was on.
The Herald left too, staying at Baylys Beach for the night.
The journey today has reporter David Fisher and photographer Mark Mitchell heading south to Auckland as they collect stories as part of the Herald's 150th anniversary in November.
Your story
Do you have a great yarn or captivating tale to share? Fill in the online form here, email your stories, photos or video to nzhgreatest@nzherald.co.nz or share your story on social media using the hashtag #nzhgreatest.