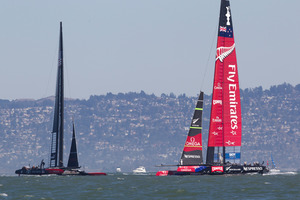 It will be a comment that could go down in broadcasting history - or be quickly forgotten in an avalanche of emotion and images.
If Emirates Team New Zealand manage to win one race this morning, the moment their boat crosses the finish line will provide commentators with a chance to echo a line through the ages.
Peter Montgomery managed to do just that when he said, "The America's Cup is now New Zealand's cup!" as Black Magic completed a 5-0 sweep in 1995.
Now calling the racing for NewstalkZB and Radio Sport, Montgomery this week said he did not have a phrase lined up in case the Cup was coming back again, but added, "Perhaps I should start giving it some thought."
Sky Sport rugby commentator Scotty Stevenson said that having talked to colleagues such as Grant Nisbett, he was confident those calling today's races would have given the finish some thought.
"It's not that it's your event or your victory, it's just that you realise that for every replay in the future, it's going to be that one line attached to that moment.
"So I'm sure the guys at the Cup are going to be thinking out what they might say. If they're not, then they'd better be good at ad-libbing."
Vicki Wilkinson-Baker, of the NZ Broadcasting School at Christchurch Polytechnic, said adequate preparation would naturally extend to the moment when Team NZ could win.
But the circumstances of the race could determine how much spontaneity altered any rehearsals or idea of what might be said.
"It would change dramatically, depending on the finish," she said. "If it was a really close finish, the commentators would be so much more excited, as opposed to something where we might win by a minute or something."
If the commentators do fluff their lines, there is a comforting precedent.
Rugby commentator Keith Quinn's legendary description of a rampaging Jonah Lomu at the 1995 World Cup was reflex, but also, in part, due to his meticulous preparation.
He had seen the phrase "all muscle and pump" in a description of an American basketballer and decided that if Lomu scored one of his trademark tries it might be appropriate.
"I wrote the words down on a slip of paper," he later said. "But in the excitement it fell off the table and all I could mutter as I scrambled to find it was, 'Lomu ... oh ... oh'."
What they could say
• New Zealand's cat's got the cream!
• We knocked the bastard off!
• The America's Cup is once again New Zealand's cup!
• Barker ... oh ... oh!
• One small tack for Barker, one giant leap for Team NZ!