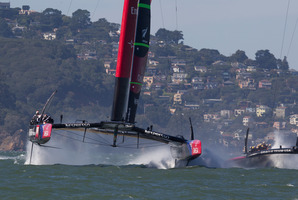 This time, at least, don't expect Cabinet ministers to blame it on the previous government. When Emirates Team New Zealand next crosses the line first - probably, hopefully, this morning - to the sound of an emotional Martin Tasker saying something like "Well, that was a boat race", the Government will be quick to claim the political treasure.
Steven Joyce flew into San Francisco yesterday and went straight to the water to cheer on Our Boat. He gets to do the honours because, of course, the Prime Minister had a better offer. I bet he'll be watching, mind you: on the old rabbits-ears black-and-white set at Balmoral. It's easy to imagine the scene. John Key explaining to a captivated room how the self-tacking jib works. Bronagh slipping red socks on to Baby George's feet. Max showing Prince Phillip how to twerk. Stephanie flicking the Queen through her portfolio of photographic self-portraits.
But back in San Francisco, Joyce will be in charge of three-way-handshake duties.
God forbid that Trevor Mallard, who is reportedly now on first-name terms with the San Francisco sea lions, should be allowed to take the credit. The former America's Cup minister might be able to claim he secured something like $40 million state funding for this challenge, but most of the attention he's attracted has been for his marathon California sojourn at the taxpayer's expense. Still, it's hard to begrudge him the largesse. As such a notorious opponent of the new Labour leader, David Cunliffe, his next marine adventure will almost certainly be a walk down the plank.
The perceived national significance of the competition, and the disquiet at Key's apparent ambivalence, was underlined by a report in the Dominion Post on Saturday which gasped at the discovery that the Prime Minister might be on a flight from Auckland to Wellington during the potentially decisive Monday morning racing. This "rejection of a simple photo opportunity is the latest episode in a confusing quest to work out whether Key even likes the America's Cup", read the story. From somewhere in San Fran, Mallard chipped in on Twitter: "Everyone knows Bolger, Shipley and Clark would have got earlier plane."
Cunliffe obligingly slipped into character. He departed briefly from his Sun-Tzu-style speech-making to describe the mood at the Labour helm. "The skipper's feeling good," he told reporters, chest puffed like Dean Barker. "I think the crew is up to the job, I think the game plan is very clear."
But Key's political antennae are as sharp as a bowsprit. When he said that future funding was not guaranteed, and remarked that he got "a bit frustrated with these billionaires fighting over different legal rulings as opposed to getting on and playing the sport", he wasn't alone. Key is a ridiculously wealthy man. But he's a pauper compared to the men who mount challenges in the America's Cup.
The extraordinary sight on Sunday morning of the New Zealand boat coming literally within an inch of capsizing - a leftward lurch that out-leant even David Cunliffe - sucked many thousands more in. But on terra firma a few months down the track, the sight of tens of millions being hydraulically pumped into what remains in many ways a rich-man's sport may not be an easy political sell.
While it's hard to imagine the Government refusing to stump up for the 2017 defence and event, the appearance of bankrolling a billionaire pastime remains very real, especially at a time of austerity, when "nice to haves" are eschewed, theatres are closing and grassroot sports face dwindling funding from the unholy pokie temples.
After New Zealand lost to Alinghi five to nothing in 2003, Mallard announced a $3 million fund to retain Team NZ crew members, to forestall a repeat of the poaching of pantomime villains Russell Coutts and Brad Butterworth three years earlier. That would be unimaginable today.
Ahead of the Rugby World Cup, Martin Snedden rather brilliantly came up with the strapline "stadium of four million". It was an exaggeration, of course, but smartly explained the sort of event they envisaged. Such a slogan would be absurd for a tournament of boat-racing, a sport without anything like the popularity of rugby, but it's fair to ask whether a regatta backed by public money might include preliminary Louis Vuitton Cup rounds in other parts of the country before heading to Auckland for its climax.
The colossal AC72 catamarans are awesome to behold, but they're expensive and there are relatively few designers. A consensus is building that smaller, more affordable multihull boats are essential to creating a tournament that will attract a decent field of international entrants. And without a broad field, it's both a poor investment and a monochrome spectacle. And one more thing for 2017: can we have a decent theme song?