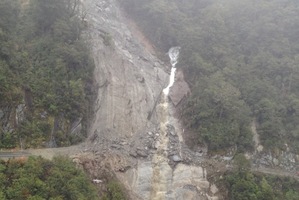 Southern motorists will be able to use one lane on the Haast Road - State Highway 6 - tomorrow, where a large slip has kept the road closed since Tuesday.
The road between Gates of Haast Bridge and Haast Pass Summit would open tomorrow at midday, however only if the weather stayed fine.
The New Zealand Transport Agency's Canterbury/West Coast regional performance manager Pete Connors said good progress had been made on clearing the highway, but he had some concerns.
"Our main challenge is that the slip face hasn't settled completely and could be reactivated by rain or earthquake activity. Ongoing monitoring is necessary at the site, and for safety reasons we will be restricting highway openings to daylight hours between 8am until 6pm.
"If there is rain during the day it is possible the highway will be closed at short notice due to an increased risk of more debris coming down from the slip.''
While one lane was not an "ideal situation'' it was at least open to transport important freight and be a tourism link between Otago and the West Coast, Mr Connors said.
"We have to balance the needs of keeping the highway open for the communities and people who rely on it for access, along with the need to ensure that everyone using SH6 can do so safely.''
SH6 would be managed carefully until the slip at Diana Falls settled.
Signs would be used to give motorists plenty of advanced warning of a closure, and gates either side of the slip would be used to physically close the highway if needed, Mr Connors said.
- APNZ