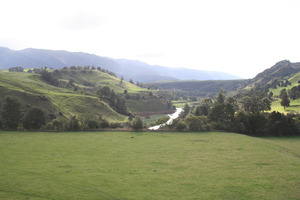 Conservation Minister Nick Smith has dismissed Green Party calls for his sacking over his role in his department watering down its report about a controversial irrigation project.
It emerged this week that the Department of Conservation prepared a 34-page draft report setting out its concerns about the way the Hawke's Bay Regional Council planned to manage water quality issues arising from the proposed Ruataniwha Dam.
However, senior Department of Conservation (DOC) managers instead submitted to the board of inquiry considering the project a much shorter document - just two paragraphs - which did not deal with those concerns.
Dr Smith, in Parliament this week, denied giving departmental officials an indication of what their submission should say, and has also said he did not know the draft submission existed until this week.
However the Greens claim an email from DOC's Deputy Director General Doris Johnson to former DOC boss Al Morrison on July 29 following a weekly meeting with Dr Smith indicated he was well aware of the draft report and its contents.
"The minister wants to see the submission we are proposing to make on the Ruataniwha before it is lodged", the email leaked to National Radio shows.
"I suggest you send it over to him tomorrow to consider the draft and also attach the briefing note you provided me ... he is concerned and is likely to query whether we leave it all to the EPA (Environmental Protection Authority) to consider."
Green Party Co-leader Russel Norman said it was pretty clear that Dr Smith had "expressed his concern about the long submission and very shortly thereafter DOC replaced it with a two paragraph submission which was neutral about the dam in spite of its huge detrimental environmental effects".
"Nick was leaning on DOC to basically withhold their criticism," he said.
Dr Smith's actions were "a sackable offence," Dr Norman said.
"Nick Smith has misled the House, he's told us something that is completely untrue and he's misled the people of New Zealand."
Dr Smith dismissed that, saying the Greens were disappointed because DOC hadn't made a submission opposing the dam, "and they're brassed off about that".
He said the concerns he raised at the July 29 meeting were that he had received only two sentences of information about the submission.
"I said I need more information and they provided that."
DOC's Ms Johnson said the decision not to lodge the draft report was made by DOC on internal advice, and had followed standard processes.
"DOC senior managers make decisions every day on what issues they engage in - balancing conservation priorities against resources," she said.
"The Minister of Conservation was informed about this decision-making process in the standard way. He did not give direction to DOC about the decision it should make and he did not receive a copy of the internal draft submission prepared by some DOC staff."
Ms Johnson said it was the "standard process" for Dr Smith to ask for a full briefing on the department's decision.