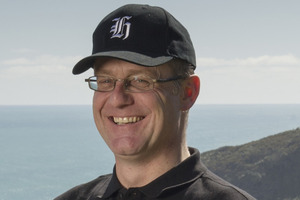 Senior writer David Fisher is out on the road this month, travelling from Cape Reinga to Bluff in search of New Zealand's 'Greatest Stories' to celebrate NZ Herald's 150th anniversary.
"Sometimes you have to give a story to get one back," says Fisher, who has agreed to share some personal anecdotes of his own to get readers' storytelling juices flowing.
Do you have a great yarn or captivating story? Fill in the online form here or email your stories, photos or video to nzhgreatest@nzherald.co.nz and follow the roadtrip on the live blog.


"I'm not inclined to watching sport, aside from nationalistic exceptions. All Black matches, spaceship-like catamarans sailing faster than the wind, golfing wunderkind Lydia Ko inspire. But generally, doing sport seems odd and watching others do it perverse.
But Pulp Sport was hilarious. It wasn't sport. It was funny. Side-splittingly funny, as it turned out.
I'd watch and laugh as the hosts tortured each other in Sporting Hell, the challenge feature that cost the loser a forfeit known as the "Soul Destroyer". Funny? Oh god yes.
In series seven, one of the hosts had to survive a certain amount of time in a freezer. He climbed in, settled in and froze. His body temperature dropped to hypothermic levels. Presumably in deathly danger, he surrendered. For some reason, the surrender resulted in both hosts, Bill and Ben, submitting to the Soul Destroyer.
So, it wasn't really funny until they pulled out the urine ice blocks. What could be funnier than a urine ice block.
It was a brilliant forfeit. Each had prepared for the forfeit by surrendering a bladder-full of urine, which was frozen on a stick. It was a stroke of genius, and entirely in keeping with the infantile, fart-sniffing humour of the show. Laughed? I cried as they sat on the sofa and crunched and munched their way through their frozen wee.
And then the producer leaned in and said: "Hey guys, I switched the ice blocks."
I laughed so hard and violently I literally needed an ambulance. I rolled around the floor, tears streaming from my eyes as the laughter covered, briefly, an excruciating pain from just above the base of my spine.
The show ended but the pain didn't. I crawled to bed but lying down didn't help. I tried to stand and fell over. I crawled for a bit but that wasn't helping. I called 111.
Paramedics must hear the most amazing stories when they get patients on the gas. I huffed the gas as we zipped down the motorway, lights flashing, and blathered about places I'd been and stories I'd worked on. The paramedic heard all about the Boxing Day tsunami, and I was slurring my way into Afghanistan by the time we got to North Shore Hospital. Morphine followed, and if anyone had asked, I would probably have shared more interstellar tales. I was certainly off-planet.
I spent the next four weeks flat on my back. I had a slipped disc, also called a prolapsed disc, which is goop from inside the spine pressing on nerves running down my back. Physiotherapy followed (Mark Silvester in Titirangi is a genius) and eventually I could (most importantly) pick up and cuddle our small children. Four years on, I still can't feel half my right foot.
I still laugh at the urine ice blocks. I saw one of the comedians leaving TV3 a few weeks back, dressed in running gear to film a gag for his new show. Sprain an ankle, I thought, as he jogged off.
Funny? Side-splitting."
- David Fisher
Your story
Do you have a great yarn or captivating tale to share? Fill in the online form here, email your stories, photos or video to nzhgreatest@nzherald.co.nz or share your story on social media using the hashtag #nzhgreatest.