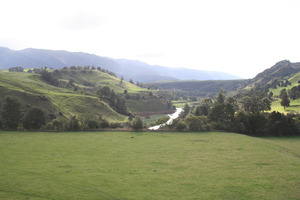 Conservation Minister Nick Smith is continuing to deny he saw a draft report on the proposed Ruataniwha Dam project, as a leaked email suggests he was concerned about the Department of Conservation's submission on the proposal.
The 34-page draft report set out the department's concerns about the way the Hawke's Bay Regional Council planned to manage water quality issues arising from the dam.
However, senior Department of Conservation (DoC) managers instead submitted to the board of inquiry considering the project a much shorter document - just two paragraphs - which did not deal with those concerns.
Dr Smith on Tuesday said he was not aware of the draft report until that morning. He stood by that today after a leaked email revealed he had raised concerns about the proposed submission.
The email from DoC deputy director-general Doris Johnson, obtained by Radio New Zealand, was dated the day of her meeting with Dr Smith on July 29.
It said: "The minister wants to see the submission we are proposing to make on the Ruataniwha before it is lodged ... He is concerned and is likely to query whether we leave it all to the [Environmental Protection Agency] to consider."
Dr Smith this morning released correspondence from DoC, dated July 31, that showed he received only the final submission following his weekly meeting with officials on July 29.
"I have consistently said I never saw this draft until Tuesday of this week and I stand by that."
Dr Smith said the first he knew about the issues with DoC's submission was at the July 29 meeting, when two sentences were included in a status report among 35 other items.
"I was told there were differences of opinion within the department over the submission. I said I wanted a full briefing and wanted to see the final submission.
"This was the only meeting I had on the issue of the submission.
"Two days later I received a full briefing and a copy of DoC's final submission. It noted the decision DoC had made to focus its submission on the conservation issues rather than water quality and why the department had decided to do so.
"I did no more than note the department's decision."
Dr Smith said the issue was a "political beat-up by the Greens" who were disappointed DoC did not make a submission opposing the project.
"It is quite clear this decision was made by the department."