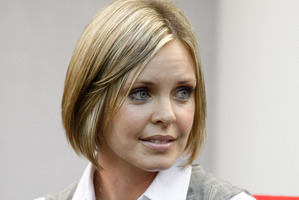 Anna Guy is reportedly pregnant to her new partner, Brent Jameson.
The sister of murdered Feilding farmer Scott Guy is expecting her fifth child, TVNZ reported.
Her father Bryan Guy said the family were delighted, and the pregnancy wasn't unexpected, TVNZ said.
Ms Guy has four children with her estranged husband, Ewan Macdonald, who was acquitted of Mr Guy's murder.
She is now living in Auckland with her children and Mr Jameson, a marketing programme manager at AMP.
His mother, Joan Jameson, told Hawke's Bay Today earlier this year that the couple were "very happy''.
"All I can say is they are very happy and the children have settled in very well in Auckland.''
Ms Guy writes a blog for the Essential Mums website about family life with children Finn, 9, Jack, 8, Lucy, 6 and Wade, 4.
In July, she wrote of her sadness that Wade would soon be at school and she would no longer have the ``precious time'' with him at home.
"It's really the little things that I will miss, like no longer having our special days at home with just my little guy and me.''
In an earlier post, she wrote that she wasn't quite sure what she wanted to do yet, but had some "amazing opportunities'' coming up that would allow her to help others.
Ms Guy has also presented stories about herself for current affairs programme 3rd Degree, including a piece last month revealing her teenage battle with bulimia.
The pregnancy news comes after Anna and Scott's sister Nikki's two-week-old baby died on September 1.
Baby Elsie, born to Nikki and husband James Speedy, died in Starship Hospital 14 days after birth, a newspaper notice said.
Macdonald is serving a five-year prison term for arson, vandalism and killing deer and calves on neighbouring Feilding farms.
He was denied parole when he came before the board for the first time in December, and will be considered again in November or December this year.
In February it was reported he had been moved from Manawatu Prison to Christchurch Prison.
Scott Guy was shot in the driveway of his farm in July 2010.
- APNZ