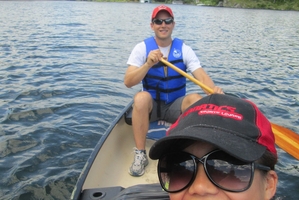 The chance of finding a Canadian couple alive after their rental van was hurled down a remote West Coast gorge in a landslide is now very remote, police say.
A helicopter with heat-sensing equipment and specialist search dogs have joined the search today for Connor Hayes, 25, and Joanna Lam, 24, who were last seen at Fox Glacier last Tuesday.
Their rental vehicle was found smashed to pieces at the bottom of an 80 metre gorge on the Haast Past, which was battered by heavy rain and landslides during a massive storm last week.
A fuel tank belonging to the wrecked campervan was found washed up some 50km from where it left the road, while helicopters yesterday spotted a seat from the van.
Police said the van was likely hurled into the gorge by the landslide on State Highway 6, which remains closed by the slip.
West Coast police area commander Inspector John Canning this morning said there was little hope the couple would be found alive.
"Unfortunately now it's very, very remote that we will find them alive. We've spoken to the coroner about it. It's just too long, too rough and you look at the pictures of the campervan - they were hit with one hell of a force," he told Radio New Zealand.
The road had been legally open at the time of the landslide, Mr Canning said.
"No one at that stage or time would have foreseen the slip coming down. They were exceptional weather conditions - it's the same night as Canterbury farmers lost all their irrigators and everything. It was quite a storm that came through.
"Locals were concerned enough to turn around and go back home. Unfortunately, tourists may have thought that it was part of our weather pattern and the country was used to it, and unfortunately it wasn't."
Mr Canning said the coroner might have "a fair bit to say" about advice to tourists when he makes his findings.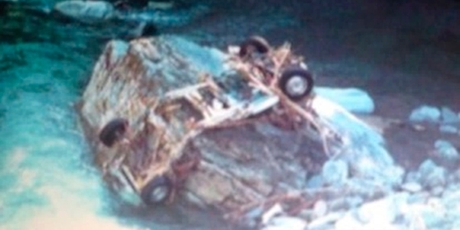 The search would continue this morning but was likely to be hampered after midday when the rain would start "bucketing down", he told Radio NZ.
"Obviously the rivers will come up and that will hinder [the search] because we're basically searching in the rivers for debris and, at this stage now, probably the remains of the two Canadians.
"That will make things a lot more difficult, it will make flying the helicopter a lot more difficult. But we'll just take that as it comes. We've obviously got to keep things safe while we search."
Mr Canning said the helicopter was searching 50km of the Haast River for the couple this morning. The search would take two to three hours, but could take considerably longer if the helicopter found something.
Specialist search dogs - which could "get things that humans can't" - would also be invaluable.
Relatives of the couple have told media they are holding out hope for their loved ones.
- APNZ