Shore crews and sailors use every spare minute of non-sailing time to find an edge so they come out on top on the water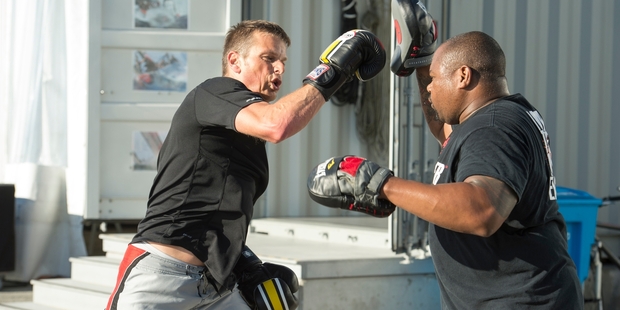 Lay days and postponements mean a welcome day off ... forget it.
Nearly every minute of every day over the past three months, somebody, somewhere will be trying to figure out ways of making Aotearoa, Team New Zealand's chosen cat, go faster.
Whether it's the design team checking their computer models, the afterguard checking the latest telemetry, the weather team compiling marine forecasts or the skipper indulging in some physical training - boxing is always good for a blow-out - somebody is looking for an edge.
Yesterday was no different. As high winds postponed races 11 and 12 with Emirates Team NZ still two wins from a famous victory, the team headed back to the shed for another thorough workover of their boat.
It has been said this America's Cup will be as much a battle of the shore crews as it is between the sailors on board, with boat reliability one of the key factors in the hi-tech AC72 catamarans. So while the sailors had an early finish yesterday, the shore crew, so often the unsung heroes in sailing, were working into the late hours making sure the boat is in tip-top shape and completing any last little tweaks for the design team.
How the teams gear their boat towards the different conditions has proved critical to the outcome of races so far in the Cup match.
Team New Zealand seem to have found a nice little sweet spot in the 16-19 knot wind range, while Oracle are blisteringly quick in heavy air.
While the postponement of yesterday's racing was frustrating for many fans, Oracle Team USA designer Dirk Kramer was quick to remind us that weather delays are nothing new in sailing.
"It's part of the game - it used to be worse a few years ago. I remember a Cup in 2003 in Auckland when we didn't sail for 10 days straight in the middle of the Cup. So to lose one day is not a big drama for us."
With more moderate winds forecast for today's racing, and the ebb tide diminishing, it is looking more likely that organisers will be able to get at least one race in.
Now four races behind in the regatta schedule, there will be racing every day from here on in (weather permitting) until there is a result.
Team New Zealand lead the first-to-nine series 7-1.
America's Cup racing
Today
Race 11: 8.10 am
Race 12: 9.10 am
Tomorrow
Race 13: 8.10 am
Race 14: 9.10 am
Saturday
Race 15: 8.10 am
Race 16: 9.10 am
Sunday
Race 17: 8.10 am