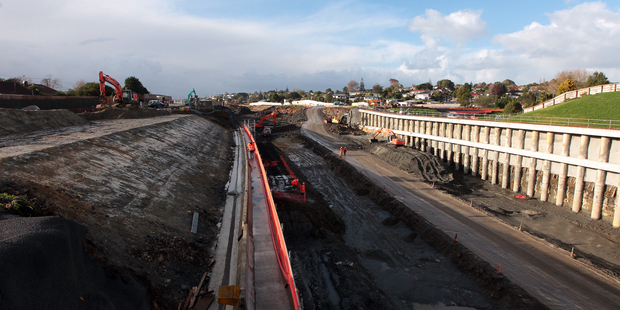 When the Northwestern Motorway began opening in the 1950s, Auckland was home to about 350,000 people. In a photograph taken at the time, I counted seven vehicles driving past scrub near Te Atatu on the new motorway.
The scrub's long gone and Auckland's unrecognisable - a city of 1.5 million and it takes more than my fingers to count the vehicles on the Northwestern.
This motorway is changing as well. It is a critical piece of the Western Ring Route - a motorway alternative to what's already in place along State Highway 1. Many pieces of the Western Ring Route are completed along its 47km between Manukau and Albany, but there's still $2 billion worth of construction left.
The biggest of the lot are the tunnels at Waterview connecting the Northwestern and Southwestern Motorways. New Zealand's never seen a project like this, changing the way Aucklanders get around and better connecting us to our Waikato and Northland neighbours.
It's all part of a huge investment the NZ Transport Agency and our partners at Auckland Council and Auckland Transport are making in state highways, local roads, public transport and walking and cycling to ensure Auckland remains a great place to live and do business.
As part of that goal, the Transport Agency is giving sections of the Northwestern a huge facelift to make sure it is ready for the changes the Waterview tunnels will bring in early 2017. Improvements are under way at Lincoln Rd and over the causeway, and there's more to come at St Lukes and at Te Atatu.
Critical to our success is support from the tens of thousands of drivers, walkers, cyclists and bus passengers who rely on the Northwestern every day.
They will already be aware of delays as sections of the Northwestern are transformed into construction zones. It's never easy, but the Transport Agency is committed to keeping the motorway open while making sure all those using it and our workers remain safe.
We are determined to find the most effective and safest ways to minimise disruption as we complete our enormous task. And we are determined to keep Aucklanders informed. In the next few weeks we'll be announcing how they can stay connected.
There are also a number of things that people can do to help.
As we manage the traffic, there will be little room for error. If a vehicle runs out of fuel, a lane will likely be blocked. In an already crowded environment this can mean significant delays. Staying in a lane helps keep traffic moving smoothly and keeping an eye on speed limits and changes to the layout of the motorway will protect travellers and our contractors working centimetres away.
When our work's finished, everyone will benefit from the Northwestern's makeover - but the journey to get there over the next few years will be challenging and disruptive. We're asking for the patience and goodwill of Aucklanders to help make this easier.
Tommy Parker is Auckland area manager for the Transport Agency.