From Cape Reinga to the Bluff, the New Zealand Herald's epic roadtrip has begun! To celebrate the Herald's 150th anniversary we're on the hunt for your greatest stories.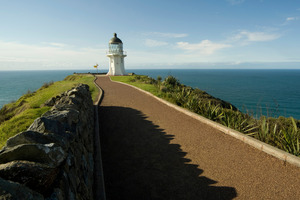 Bad weather was no barrier to a stream of visitors heading to Cape Reinga, with Kiwis on a pilgrimage north outnumbering tourists.
It also saw the NZ Herald's Greatest Stories road trip kick off after a night camping at Spirits Bay. The day started with a kahawai caught at dawn at Spirits Bay. Paparoa's Ian Ross was up as the sun rose, reliving fishing adventures of his youth. This time, though, he was with wife Tania Norden-Ross instead of the wild fishing mates of his youth.
They left Auckland eight years ago and horror stories of house prices in the Queen City fall on deaf ears. The joy of rural life has the couple discovering their own greatest story on their 4ha block halfway between Auckland and Whangarei.
"You look at the Auckland marketplace and think we would have made a capital gain. But measure that against how happy we are."
Reporter David Fisher and photographer Mark Mitchell were in Ahipara last night. They are travelling NZ to find people's greatest stories, to be published in November to mark the Herald's 150th anniversary.
Your story

Do you have a great yarn or captivating tale to share? Fill in the online form here, email your stories, photos or video to nzhgreatest@nzherald.co.nz or share your story on social media using the hashtag #nzhgreatest.