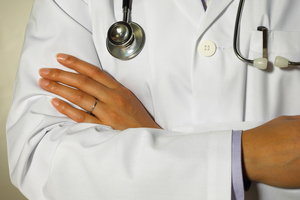 A doctor has been reprimanded for failing to address ongoing symptoms in a patient who was later found to have advanced bowel cancer.
The Health and Disability Commissioner's report into the GP found she failed to provide services with reasonable care and skill.
The doctor, identified only as Dr B, saw the patient several times over four years, and was told of bowel symptoms at least three times.
Medication for irritable bowel syndrome was prescribed, and brought some relief for a time.
But the patient eventually requested to see a different doctor because she felt the problem hadn't been properly addressed, and that she had been "fobbed off".
The new doctor referred her to a surgeon, who diagnosed advanced bowel cancer.
Commissioner Anthony Hill's report said Dr B missed several opportunities to investigate the symptoms further, and failed to arrange adequate follow-up.
He noted that the patient did not present frequently, was at low-risk of bowel cancer, and that the medication prescribed did appear to work for a time.
However the doctor did not act with appropriate care and skill, and was found to be in breach of the Health and Disability Services Consumers' Rights Code.
It was recommended the doctor undertake an audit of patient records to identify any who needed follow-up. She had already provided a written apology to the patient.
- APNZ