Kiwi fans collectively hold their breath as Oracle find extra pace upwind and gain ground on Emirates Team NZ until there is just one second between the boats at the penultimate mark.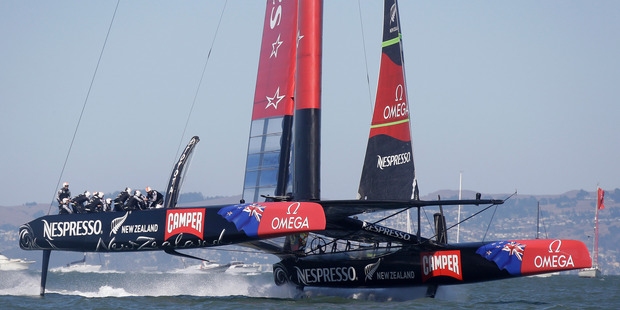 'If you didn't enjoy today's racing then I think you should probably find another sport."
In the words of Dean Barker, America's Cup sailing doesn't get much more exciting than the nail-biting nautical joust between Team New Zealand and Oracle in yesterday's second race of the day.

It was thrilling yes, but not all fans will agree it was entirely enjoyable. For the most part it was excruciatingly tense.
After Team NZ recorded their second straight loss to Oracle in yesterday's opening race, there were already nerves aplenty from Kiwi fans heading into Race 10.
Having struggled early on in the regatta, Oracle suddenly found some pace upwind and had their tails up - another loss for Barker and his crew could have been the momentum-switcher.
With the stakes so high, Kiwi fans packed into the America's Cup Park rode every tack and every gybe with the crew on board.
There were gasps and grimaces from spectators when the two boats crossed in close quarters on the upwind leg - which has typically been the deciding leg in the 10 races thus far - reaching combined closing speeds of 60 knots.
By the end of the crucial three-nautical-mile leg, all that separated the two boats was one second.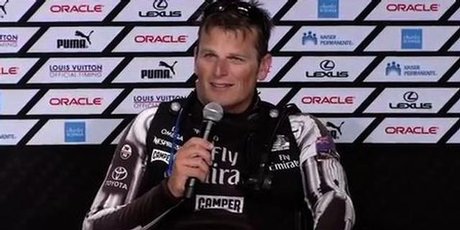 Team NZ trimmer Glenn Ashby acknowledged it must have been a tough one for Kiwi fans to watch.
"I'm sure if you had heart-rates on half the public they probably would have been up there with the sailing team. It was certainly exciting," he said.
"It was about as good as it gets racing-wise. The boats were tapped out performance-wise and both crews were tapped out performance-wise."
The win saw Emirates Team NZ take a 7-1 lead in the series, moving to within two points of lifting the Auld Mug.
But Sunday's dramatic near-capsize, when the Kiwi boat came within half a degree of toppling into the water, and Oracle's sudden burst of speed upwind have taught us we cannot afford to be too confident.
As Barker has been patiently saying for the past week: "They've definitely stepped up and we knew they would.
"We know this is going to be a battle and we've been saying that right from the start. These guys are not going to give it away easily."
Or, as rival Jimmy Spithill has not so patiently been saying for the past week: "I've been telling you guys, this team can win races. This regatta is a long way from over, in my mind."
There will be no racing on today's reserve day as both teams elected not to race, giving fans' nerves a much-needed rest.