Student in hospital with serious eye injury after accident in chemistry class.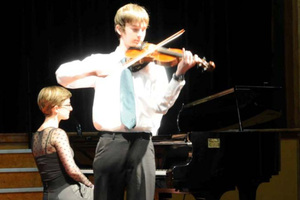 A schoolboy has suffered a horror eye injury after being splashed in the face with acid during a science experiment.
Glendowie College student Ryan Edwards was in a chemistry class when he dropped a bottle of concentrated hydrochloric acid (HCL). He was not wearing safety glasses. The talented violinist was immediately treated in class by a school nurse before being taken to Starship Hospital by ambulance and later transferred to the Green Lane Hospital eye ward.
College board of trustees chairman Shayne Blake said the school was investigating the cause of the accident, which happened two weeks ago. "We are very concerned and we wish Ryan all the best for his recovery but we have to complete our internal investigation before we can comment on why it happened," Blake said.
"I can say young Ryan was injured by an acid splash in the eye. He was immediately treated at the eyewash station in class and was then admitted to hospital and, as far as I know, he is still in hospital."
The school policy was for students to wear safety glasses during experiments. They were available but Ryan was not wearing any.
Blake said the teacher in class at the time acted quickly to assist Ryan.
"The teacher is a very experienced teacher who is devastated by what happened. There has never been an accident in the class before."
Blake said the school had been getting regular updates from Ryan's parents. "Ryan has been through a lot of pain. He is improving but it is a slow process. Our sympathies are with Ryan and his parents during this difficult time. It is also difficult for the staff involved but we want to make sure the school learns from the findings of the investigation."
Such injury accidents are supposed to be reported to the Ministry of Business, Innovation and Employment within seven days but the school did not inform the ministry until 10 days after the event.
The ministry has since informed the school it will conduct an independent investigation into the accident.
Blake said the school welcomed the investigation and would use the results to make any required improvements to classroom practices, post-accident response, and school policies and procedures.