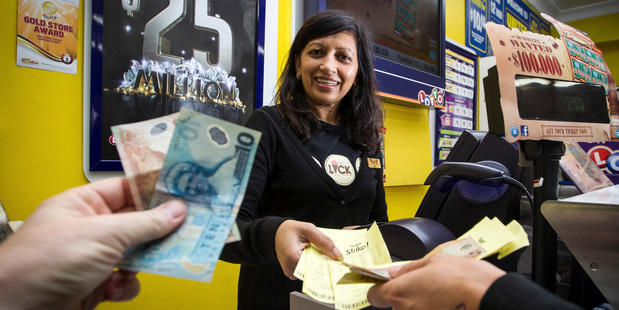 Lotto Powerball has jackpotted again, meaning this week's draw will match the $27-million mark struck by supermarket worker Trevor Cooper in April last year.
Although no lucky punter woke up this morning $25 million richer, Lotto retailers throughout the country are smiling after one of the busiest weeks ever.
At United Video Blockhouse Bay, owner Harry Wadan sold $1,000 in tickets in the first half hour yesterday to his first four customers.
"When Powerball goes up above $20 million we have quite a few more big players. We have two players who spend $3,000 to $4,000," he said.
Printing so many tickets could take up to an hour, but customers chose the store because of its 16 previous first-division winners. Selling a Powerball winner would put the store on the map, he said.
Lotto is a big retail business, with 1,200 stores employing 5,000 people.
In response to questions from the Herald on Sunday that New Zealand Lotto revealed its "retailer operations manual" included these tips:
• Customers don't just buy a piece of yellow paper, they buy something that makes them feel lucky for a while. That "feeling" is the real product on sale.
• Many customers need advice on what ticket to buy. "It is a good idea to tempt them with a particular ticket and remember, the more lines they have on their ticket, the more chances they have to win - so you could point out that the higher-priced tickets actually give them more chances!"
• While waiting for tickets to print, ask customers what they are going to do if they win. "Encourage them to think about what they would do if they were lucky enough to have their numbers come out on the draw!"
• Every time you hand over a ticket, give them a feeling of optimism. When a customer hands you a ticket to check, remember that the piece of paper in your hands could change that person's life."
Lotto corporate communications manager, Emilia Mazur, said Lotto was the country's single largest retail network and in the past 12 months had received only one complaint about perceived aggressive selling tactics from a retailer. "The retailer was visited by their local sales representative, who reminded all operators that their job is to be informative but not to be pushy."
She said Lotto provided safe gambling that allowed people to play and win while contributing back to communities. In 2012-13, Lotto NZ transferred more than $200 million to the Lottery Grants Board.
An Auckland "odd-jobs" man, 60, who has undertaken counselling at the Problem Gambling Foundation, told the Herald on Sunday that he'd bought a Lotto ticket almost every draw since its launch in August 1987. His biggest win was about $300 on a Strike ticket in 2002.
He said the idea money was going to charity encouraged gambling addicts like him. "I hate it. Some people can have fun with it, but it seems to be getting a bit big for a small place. It's all getting a bit scary. I'm wondering what they're going to invent next to trap me."
Foundation spokeswoman Andree Froude said Lotto was only a problem if people spent more than they could afford.
However, chief executive of the Federation of Family Budgeting Advisors, Raewyn Fox, didn't see any difference between Lotto and any other retail product.
"If the customer has some spare spending money and that's what they decide to spend it on, that's up to the customer."