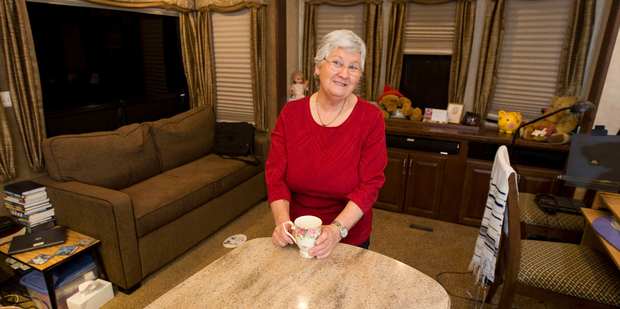 Inquiries about luxury American RVs are starting to rise as Kiwis look for alternatives to high-priced houses.
While many Aucklanders will head to the Auckland Home Show at the ASB Showgrounds today to look at renovation ideas, others will be checking out more mobile options.
Two mobile home providers spoken to by the Weekend Herald are reporting more inquiries from people looking for self-sufficient vehicles at a fraction of the price of a house.
The city can expect to see permanent trailer park dwellers because of rising property prices and bills, believes Milton Kilgour of Silverdale RV Centre.
The company has been importing motorhomes from the United States for nine years but has only this year starting bringing in a luxury brand after customers started asking for a completely self-sufficient model.
Retailing at about $130,000, the Cedar Creek model, made by an Amish company in Indiana, costs a quarter of Auckland's median house price of $552,000.
The 12m x 4m RVs come with a queen-sized bed, leather reclining chair, dining table with chairs, sofa that folds out to a queen-sized bed, full kitchen with oven, 40-inch TV, central gas heating and an electric awning outside. It has a separate bathroom with a fibreglass shower.
Customers can add their own touches such as double-glazed windows, ducted air-conditioning, decking and trellising.
"A lot of people are putting their homes on the market and planning towards this type of product," Mr Kilgour said. "The cost of housing in New Zealand is so high and people are looking at alternatives to buying or building a house, or a beach home, or a granny flat for Nana to live in.
"They're more like a luxury apartment with three or four slide-out rooms which is more or less doubling your living space."
Mr Kilgour, who has an RV set up at the Auckland Home Show this week, said he had had a range of inquiries.
One young couple had bought a section in the city but could not afford to build a home so were looking at buying an RV, living in a camp ground, and paying off the trailer over five years.
They would then sell it and use the money to build a home on their section.
Another young couple were looking at living in a trailer on their parents' property as they saved for a home.
"It's helping younger couples accumulate enough money in the capital value which they can then, at a later stage, sell and use that money as a house deposit," Mr Kilgour said.
He had also just sold an RV to a couple who live in America for six months and New Zealand for the remaining six months each year, and wanted something low-maintenance.
One man had bought a trailer after selling his home and parked it on his daughter's 5ha section in Waitoki, north of Auckland. Another couple had just sold their farm in Cambridge and planned to park the RV on their new section in Tauranga while they built a home.
Other customers included people looking for guest accommodation, a home for farm workers and people wanting to put their elderly parents out the back. New Zealand camp grounds were being sold off at an alarming rate because of the increasing land value and the trailer park culture did not compare to America, Mr Kilgour said.
"The US has big, beautiful RV resorts that ... have hedgerows and beautiful paved areas. In New Zealand it's a growing trend."
Jonas Ng, of Buy Campervans in Howick, which imports motorhomes from Germany, said they were also getting an increase in inquiries from people wanting to live in the vehicles.

Mobile home living proves much easier on the pocket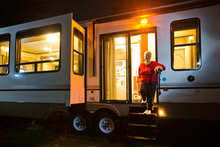 As her rates, insurance, water and electricity bills continued to rise, widow Noeleen Faulkner knew she wouldn't be able to keep living in her $600,000 Pakuranga home.
Work for the 61-year-old cleaner was also drying up.
But buying a smaller home was also financially impossible.
When a friend suggested she look into buying a motor home, Ms Faulkner sold her house and bought a luxury RV imported from America for $132,000.
"It's the best thing I've ever done," Ms Faulkner told the Herald.
The vehicle is permanently parked at the Chosen Valley Christian Camp, in Ararimu, 47km south of Auckland, where she works 20 hours a week cleaning for her keep.
She still owns a car and drives into Pakuranga about two days a week for her home-cleaning job.
Even without rising bills at her three-bedroom home, it would have been too large and the cleaning and garden maintenance had become too much.
"When I sold the house, they sent me a new rates bill by mistake and it was just under $3,000. I couldn't pay that."
Her trailer features a double bed, a two-seater fold-out couch which guests sleep on when they stay, a 40-inch television, and a full kitchen and separate bathroom. She paid to have the oven removed as she didn't want to clean it.
The only thing the trailer doesn't have is a laundry, but she uses the camp facilities.
Mrs Faulkner, whose husband died in 1999, said a neighbouring couple in a motorhome lost their business and were forced to sell up.
"There's plenty of us doing this ... you've got to think a little bit outside the box."