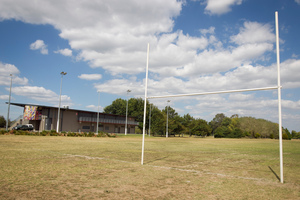 Four players from the South Canterbury rugby team have voluntarily stood down while police investigate a rape allegation.
Police confirmed officers in Wanganui, Palmerston North and Timaru were working on an investigation into the alleged rape of a young woman in Wanganui on Sunday.
The South Canterbury rugby team was staying at the Kingsgate Hotel in the city at the time.
Timaru lawyer Tony Shaw, who is representing four South Canterbury players, said they had voluntarily elected to stand down.
"They did so because they were concerned at the suspicion that had fallen on the rest of their squad, and they were concerned about the rest of their team members and their team members' families.
"They thought they'd do the correct thing and stand down so that the suspicion doesn't fall on those people who are playing."
Mr Shaw said the players were co-operating with police.
It was unclear when the players would return to the squad.
"The police need to investigate and we're really in their hands at this stage."
Central District criminal investigations manager Detective Inspector Chris Bensemann said police were hoping to complete nearly all of their interviews in the Timaru area by the end of today.
Further inquiries in Wanganui would continue over the weekend and early next week.
"We will assess what information we have and make some decisions in due course."
Asked whether the allegation was against all four players who had stood down, Mr Bensemann said: "It relates to more than one player."
Mr Bensemann said the complainant was coping as expected.
"Obviously all the media around this has been upsetting," he said.
"The victim's got the support of her family and friends, and the investigation needs to take its course."
Police were analysing CCTV footage from city cameras and footage from bars players were believed to have visited.
South Canterbury Rugby Union chairman Brent Isbister would not comment on which players had voluntarily stood down.
"The police investigation is ongoing and that's not in anybody's interest," he said.
"They are helping with police investigations and they have voluntarily stood down while those investigations are ongoing.''
He also would not say what actions the players might face if they were charged.
"We're not that far down the track - we're waiting on the outcomes of a police investigation before we're making any decisions."
Mr Isbister said the remaining members of the team were "looking forward to having a good crack at playing West Coast this weekend".
- APNZ