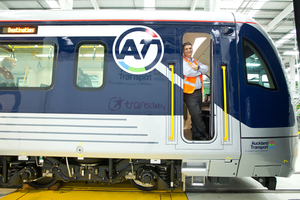 Passengers on Auckland's new electric trains - the first of which was unveiled yesterday - will enjoy the spaciousness of open carriages from one end to the other.
Passengers will be able to peer down an internal corridor running the full 72m length of each three-car train, except for when there is standing room only.
Auckland Mayor Len Brown and his 3-year-old grandson Luca Colgan raised the curtain on the first train, which will be electrified next week when switching gear to Auckland Transport's new $100 million depot at Wiri is turned on.
That was the signal for representatives of user groups such as the disabled and transport campaigners and other guests to swarm over the gleaming new train, which will carry up to 375 passengers between Onehunga and Britomart from April, an increase of 40 per cent over the old diesels.
The 56 new trains, which arrive from Spain in 2015 and cost $400 million, have almost twice the acceleration of the old fleet and have greater braking power linked to an emergency over-ride system.
Drivers will be able keep an eye on things via an array of CCTV cameras, four inside each carriage and 10 outside each train.
The middle car of each train will be lower than the others, so parents with children in strollers, cyclists or the disabled can board at platform level.
Each carriage has two doors on each side, 1.45m wide to allow fast boarding and maintain a 10-minute frequency between each train.
Auckland Transport chairman Lester Levy praised Spanish manufacturer Caf for delivering the first train on time, which he hoped would set the future operating standard for the rail network.