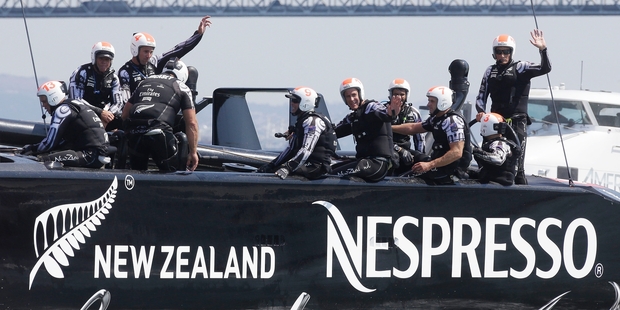 Prime Minister John Key says knighthoods for members of the Team New Zealand crew such as Grant Dalton and Dean Barker would be "worthy of consideration" if they win the America's Cup back.
Mr Key made the comments after the New Zealand yachting syndicate took a 5-point lead over Oracle in the finals series.
"Let's wait and see," Mr Key said, when asked by the Herald about the possibility. "It would be a great victory if they won, so worthy of consideration. It's a pretty awesome thing, isn't it - the America's Cup?"
Asked if it was different from the Rugby World Cup, before which he had sent a strong signal that All Black captain Richie McCaw and coach Sir Graham Henry would be offered knighthoods, he said: "Not necessarily. It's a pretty big event. Let's wait and see."
Labour sports and recreation spokesman Trevor Mallard, in San Francisco, said any discussion of awards was premature and placed too much pressure on Team New Zealand's crew.
"Let's make sure that we win first rather than cause any lack of focus with that sort of speculation. These guys need to focus on the racing."
He said if sportspeople made a significant contribution to their country it was appropriate they received the top honour, and he did not think it was a requirement for them to have also excelled outside of the sporting arena.
Yachting commentator Peter Montgomery also said it was too early to speak of honours, but emphasised the "precedent has been set" because Cup winners Peter Blake and Russell Coutts had been knighted.
"I've just thought as a matter of course it would happen; if not coming up within the next six months, then the next 12 months."
He said Dalton's sailing, character, and ability to fundraise for New Zealand yachting all made him a contender for a knighthood.
"He is extremely driven and committed and his role in being able to open boardroom doors to be able to raise the money required has been really quite outstanding."
Dalton had sailed at the top level for 30 years, including seven races around the world, and helped to rebuild Team New Zealand after two America's Cup losses.
Barker, 41, has been involved in New Zealand's America's Cup challenges since 1995, winning the Louis Vuitton Cup twice.
Sir Peter was knighted in the same year he helped lead Black Magic to the America's Cup in 1995, though he had already won the Whitbread Round the World Race and led the fastest circumnavigation of the world.
Sir Russell's citation said as well as skippering Team New Zealand to two America's Cup victories, he had claimed 20 first-class honours over 15 years including Olympic gold in 1984.