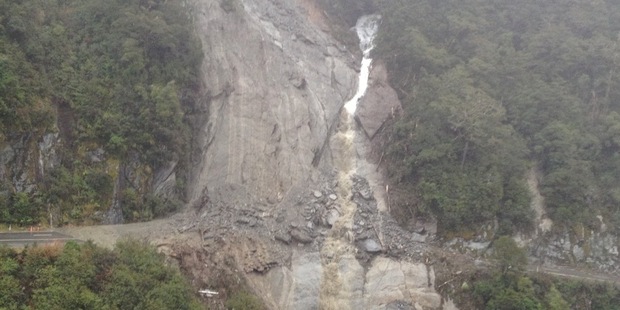 The Haast Pass will not reopen until later tomorrow as contractors work on a slip at Diana Falls that buried State highway 6 under 500 tonnes of debris.
Work got under way this morning to clear the major slip that has closed the highway between Haast and Makaroa since yesterday morning.
NZ Transport Agency West Coast area manager Mark Pinner said the slip had stabilised enough to make it safe to start clearing work.
"The slip is about 50m high with at least 500 tonne of debris along the road below. Even though clearing work is under way, we won't have a complete picture of the amount of damage we are dealing with until the slip debris is removed.''
However, due to the damage to the road, and a culvert covered by the rockfall, it was not feasible to expect it to reopen today, Mr Pinner said.
The stability of the rock face above the road would be assessed again later today now that the rain had eased.
"Most of the issues on the highway, including the Diana Falls slip, are within a 2km area between the gates of the Haast Bridge and the Haast Pass summit. There has also been many debris flows. These are being cleared at the same time as the rockfall is being cleared.''
Mr Pinner said they recognised how important the route was and the NZTA was putting all the resources it had available into getting it open as soon as possible.