A woman was killed and a man critically injured in a suspected stabbing in Titirangi last night.
Emergency services descended on Takahe Rd at 7.50pm and found the body of the woman, and the man with life-threatening injuries.
It was reported he had stab wounds to his neck and head.
He was taken to Auckland City Hospital in a critical condition.
Do you know more? Email newsdesk@nzherald.co.nz
Armed police, dog squads and a helicopter searched the area and another man was taken into custody.
A guard was posted at the scene overnight.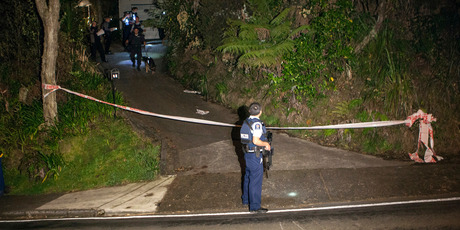 A resident of the street said she saw three ambulances and about six police vehicles.
"I could hear more sirens going in the distance and a helicopter going above us. I thought, 'Something big has happened', and could see them [police] walking through properties with torches, looking into the bushes and shrubbery and having to go onto the next door neighbours' property.''
Photographer Bradley Ambrose said the incident occurred at a two-storey house up a long driveway.
"When I arrived, they had a number of ambulances there and they brought out one of the people in a very serious condition and put him in the back of an ambulance.''
3 News reported that the injured man, in his 60s, suffered stab wounds to his head and neck.
During the hour-long search for the suspect, police told neighbours to stay inside.
"I heard a helicopter going around and obviously knew there was something going on so I came out and went up the road there and spoke to a policeman and he just said, 'Just get inside and keep your doors locked','' one man told 3 News.
"He said, 'It's not looking good'.''
The suspect was located about 1km from the scene.
- APNZ, NZ Herald